Only Confession.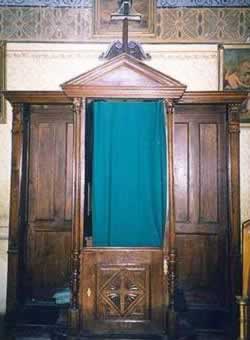 What happens here, stays here.
Take a vacation from sin at the premiere location for doing so. We have plenty of options and packages just for you! Venial or Mortal we have it covered. Face-to-face or behind the screen we will accommodate you. During appointed times or by appointment – we cater to your every need. Traditional booths or reconciliation rooms – book ahead for available options at a parish near you. No reservations required other than moral reservations. You can travel all over the four points of the compass, but only here will yours sins be as far away as the East is from the West. You ask what does this amazing deal cost? Why it is absolutely free and is not even a limited time offer. No mint on your pillow, but you will receive a small penance at no additional charge. So act now while you still can.
* Offer might be limited at some parishes to a short period on Saturdays. Participants must repent and fully list any mortal sins to qualify.