NASHVILLE, Tenn. (BP)–Big Idea Productions, creator of VeggieTales, has moved its headquarters from Chicago to suburban Nashville, and observers predict more family oriented entertainment companies will follow.
Tennessee Gov. Phil Bredesen participated in a welcoming ceremony and carnival for kids this summer at Big Idea's new home in Franklin, just south of Nashville.

Bob the Tomato and Larry the Cucumber, stars of the VeggieTales films, also were on hand, and Bredesen named them official citizens of Tennessee.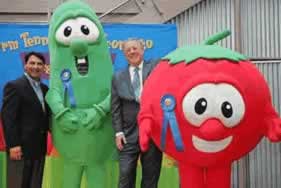 Larry the Cucumber and Bob the Tomato were made official citizens of Tennessee recently when Gov. Phil Bredesen welcomed their company, Big Idea Productions, to the state. Joining the governor, Larry and Bob was Terry Pefanis (left), COO of Big Idea. Photo courtesy of Hoganson Media.
"Today's announcement is a testament to what can happen when we all work together–state and local governments, as well as private interests–to make something positive and exciting happen in our state," Bredesen said.
"Big Idea's decision to relocate its corporate headquarters to Tennessee, where it began, is reflective of a growing interest in developing family entertainment in the … area. Big Idea's move here is sure to spark additional entertainment investment in this community and its workforce."

Over the past few years, Franklin has developed into one of the nation's major hubs for a half-dozen recording, publishing, management and distribution companies involved in family-oriented entertainment enterprises, according to the governor's office. Entertainment corporations in the area generate nearly $1 billion in revenue each year, and the growth is expected to continue.

For its new headquarters in Franklin, Big Idea has redesigned 12,000 square feet of space at The Factory, a former stove production facility listed on the National Register of Historic Places.

The location will house Big Idea's executive, creative and production teams near major distribution partners Word and EMI in Nashville.

"Big Idea is thrilled to call Tennessee home," said Terry Pefanis, chief operating officer at Big Idea.
[Full Story]

There was a rumor that they were going to move to Florida, but after the Terry Schaivo case they changed their minds They were worried that George J. Felos and Judge Greer would have Larry and Bob executed for being in a persistent vegetative state.