I recently saw this picture on Facebook.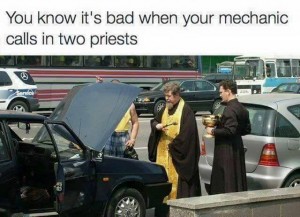 Well if you don't have an automatic, possibly they could do an "Anointing of the Stick" or some form of "Last Rides" for ailing engines.
Soon after this headline caught my attention San Francisco techies are hiring this Wiccan witch to protect their computers from viruses and offices from evil spirits.
Talley is one of those mystics, a Marin County witch boasting three master's degrees and over 40 years of experience. Though tech problems are not the only ones Talley tackles, she is routinely called upon to debug people's tech woes with spiritual energy.

"Most people want me to protect their computers from viruses and hacks," she told SF Weekly. "So I'll make charms for them. I like to use flora." And when there are problems in office hardware, Talley turns to "Jet," a black stone that serves to block energy. In extreme cases, she casts protection spells of her own over the entire company.

Talley recounts one particular tale to SF Weekly, when a startup's office alarm would blare at all hours of the day, and no one knew why. After multiple electricians (the "rational" choice) completely failed to solve the problem, the company called in Talley.

"I got the spirit out," she told SF Weekly.

Talley's website says she welcomes issues too unusual or dangerous to take the the straight world of Western helpers. But she also says no problem is too big or small, even, perhaps, your printer malfunctioning. However before you jump on the phone, you should be aware that Talley's services do not come cheap. She charges $200 an hour (though a phone consultation is free).
Well judging by her outfit shown in the article she is a "Black Hat" hacker.
Jokes aside, this is great if you want to open up your company to a zero day spiritual attack.
I'll stick with sacramentals, although dousing equipment with holy water is probably not a good idea.
The Archdiocese of Milwaukee has a Prayer for Computer Users.
Bless again this day the mysterious computer

which awaits your power and my human effort.

Grant wisdom, knowledge and a clear memory to my mind

as I sit before this new creature of your infinite power.

Bless my heart with endless patience whenever needed.

Guide my hands that I may be your faithful servant in every key I press.

Enable my limited efforts to bring glory to your Name

and blessings to your people everywhere.

Delete me not from your Kingdom

and save me from all fear and from all error of sin and ignorance.

I whisper this prayer, mindful of the needs of all with whom and for whom I work,

through the power of your Word and the life-giving energy of your Spirit.

Amen
Although I have to admit that the wording of this prayer tickles my funny bone inadvertently. Seriously "Delete me not from your Kingdom"?