Hi I am Dr. Lee and I
would like to inform you about a brand new product. Do you feel listless?
Does confrontation make you
uncomfortable. When it comes time to take direct action do you appoint
a committee instead? Do you win every limbo contest you enter?
If you answered yes to these questions then you are probably
suffering with SCD (Spinal Column Deficiency). Don't feel embarrassed
since many
people have been diagnosed with SCD. SCD is a vicious treatment circle
since those who suffer from this just don't have the biological equipment
to deal with it. They just don't have enough gumption to do something
about their medical condition. What with major surgery and the prohibitive
costs and all many decide to just go on in life this way.
Until now there was just no alternative.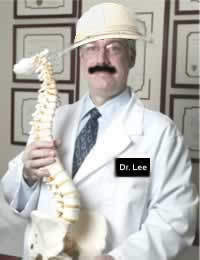 Now available is Dr. Lee's Press-On Spine. Easily attaches
in seconds to give you that straight-up look you have been missing. Usually
by the
time people recognize their conditions their spine has atrophied, but
no matter my Press-On Spine works even with little or no natural spine left.
While this condition can occur in anybody it seems to affect
some specific occupations. Especially prone is the Episcopacy to this
condition. So
I have designed a reinforced model for American Bishops that combines
a Bishops Crook with a reinforced titanium support spine.


Another profession sorely in need is the leadership
of the Republican Party. In medical trials there have been some problems
with rejection. Their
bodies were so use to not having a spine that insertion caused a reaction
even with an exact tissue max. Just the mention of a judicial nominee
could cause the spine to pop right back out. All of Dr. Lee's Press-On
Spines have a simple peel-off tape with adhesive and the political spine
has a special epoxy resin to ensure the spine stays in place even under
political pressure.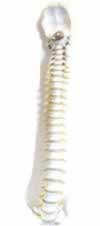 If you are suffering from the listed symptoms, just because
you are not part of these professions you also need to come in for a
free office
exam
to
determine
if you suffer
from
SCD.
You can order Dr. Lee's Press-On Spines in convenient single,
4-pack, or by gross for those USCCB meetings.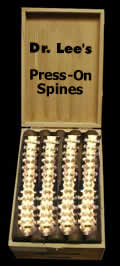 * Cardinal
Theodore McCarrick please call my office.
A reader emailed me with the idea of a Lee Press-On spine like the old Lee Press-On nails of old and I hope that I have done it justice. At the minimum I have created an appropriate graphic Mark Shea can use for an Episcopal Spine alert.