As a long time fan of Julie Davis I was delighted to receive a review copy of her latest book – which is released today. Seeking Jesus in Everyday Life: Prayers and Reflections for Getting Closer.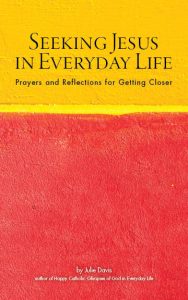 I have become more an more of a fan regarding the genre of daily meditations. Usually I like the format of a quote or two, short reflection, and a closing prayer/reflection. I usually like the conciseness of such books which get right to the point.
I have been taking a leisurely stroll through this new book using it as intended. Reading a single or a couple of pages daily. I really enjoy the variety of quote sources and how she reflects on them. She has a Chestertonian ability to see things afresh and to illustrate that freshness to you. There is gratitude and wonder in her reflections that inspire me to want to imitate that viewpoint more consistently.
Sometimes even from the best of writers I usually find the closing prayer/reflection more as something tagged on than integral. More as an expected part of the format than something useful. Not true here where even a single sentence is the exclamation point to what goes before.
So yeah – highly recommended.
To see an excerpt go to Niggle Publishing.
Oh and Niggle Publishing is hers. A Tolkien fan, such as myself, just loves that name.
You can also find Julie at: (lifted from her Publishing page)