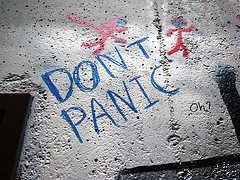 With the Extraordinary Synod of Bishops on the Family now in session and everything that has led up to it, I have seen lots of reactions. There is the "finally" crowd who think the Synod will be changing Catholic teaching and are happy about it and there are the doom and gloomers who think the Synod will change Church teaching and are not happy about it.
So I was all set to write a "Don't Panic" post and relate the current situation in the Church to Church history. I even had it set as a reminder to write something on that subject.
Then I saw Thomas L. McDonald's post today The Catholic Church Will Survive: Putting Crises in Perspective. If I was much smarter and was an excellent writer this was the post I would have written.
So just read his post instead. Still I will go ahead and meander on the subject myself since the subject must seek release from my brain and that's what my blog is for.
I am no Church historian, yet the subject does interest me as a amateur and what I have read has intrigued me and helped me try to put things into perspective. It seems to me the Church is always in crisis. We are always coming to some decision point and when we come to a decision there are still waves of effects from even a moment of clarity. This of course is followed up by the next crisis.
The Book of Judges shows that ebb and flow of repentance and falling back into sin. Over and over we see pattern in the Old Testament. The false idea of progress where just the passage of time leads to moral progress is one of those things that can only be believed if you conveniently ignore all of human history and the evidence of your eyes. Still even with that caveat, many seem capable of doing just that. The prophets were never called to affirm the current moral climate, but to denounce it. No surprise that prophets were unpopular. Oddly we have people today claiming a prophetic message who affirm negative moral trends. No surprise that they're popular and don't contain martyrs among them.
All of the rest of Church history follows the same template of rise and fall. This is certainly unsettling in every age. Still much of the New Testament is written in response to some problem or other. The pastoral letters are not about how everyone has converted to Christ and are spreading the Gospel to others. Sure this is one aspect, but mostly there are the day-to-day problems dealing with discipline and just plain heresy. Without all this drama no doubt the New Testament would be much shorter.
Rising from the persecution stage of the early Church we again run into the same series of problems facing the Church. Most notable in this early period is the Arian heresy which gained many adherents including many of the Easter Bishops. Not to mention other concurrent heresies in those times and the ones that followed them. I could easily imagine being a Catholic blogger during those times generating link-bait papyrus despairing at Arian episcopal appointments and the banishment of Athanasius once again. To have the Council of Nicea overwhelmingly reject Arianism and yet Arianism was strengthened in regards to power and influence in the Church. Plenty of factions and double-dealing behind the scenes. Agendas and people using theology for a power grab. Yeah nothing has changed.
The time of the Council of Nicea is no real exception. Heresy and corruption are mainstays of Church history along with the saints God raised up in those times. There has never been some idyllic golden age in the Church and there won't ever be for the Church Militant.
When I first heard the reports regarding the Secret Synod from Edward Pentin I was not surprised. There have always been factions and those plotting to change theology. In fact I would have been more suspicious if such groups did not come to light. The advocates for itching ears always have some new enlightened view to proclaim from their elitist heights. Bad theology always gains adherents as it tends to excavate the narrow way and reduce the need for repentance.
I am no Pollyanna just invoking the truth that the "Gates of Hell will not prevail against the Church." True as that is there is a lot of damage that can be done that is just short of "prevail." Still I am not worried that Church teaching is going to be changed. Time and time again at these points of response to crisis, documents produced do not support the current error. Sure there are ambiguities and certainly no guarantee that the orthodox views are stated perfectly. These documents are not inspired and often not even inspired in the other sense.
No the documents that will come out of the Extraordinary Synod of Bishops on the Family do not give me premonitory indigestion. It is almost always the pastoral response that concerns me. Regardless how clear a document is and orthodox it is. It is always the pastoral practice that subverts it. Humanae Vitae did not end discussion regarding the moral licitness of contraception. It was ignored by Bishop conferences, priests in the confessional, down to the practice of the laity. Contraception was a good case in point regarding how so many thought the Church as going to change her teaching. Lots of drama then also regarding the The Pontifical Commission on Birth Control which overwhelming supported contraception in saying it was not intrinsically evil.
Usually what happens is that dissenters find the easiest way to undermine Church teaching is not to teach it or have it taught. Make everything a matter of conscience, an individualist unformed conscience. Since this time around the issues regard divorce and remarriage regarding Communion and to some extent homosexual acts, dissent will take different paths. It is not as if dissenters will be able to publicly "remarry" people or conduct same-sex weddings. Such public dissent would take the same disciplinary path as attempting to ordain women.
As a pessimistic-optimist I will be able to deal with both the clarifying and maddening aspects of the results of the Synod. Don't Panic, but pray instead.
Photo credit: Good Advice via photopin (license)