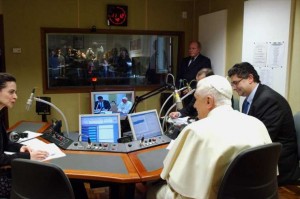 On October 2, 2012 Vatican Radio launched its first ever app for Apple's iOS. The new app can be downloaded for free from the App Store, and offers similar functionality as the Android app that was launched in September.

The app shows an overview of the Pope's public appointments, and lets you access both text and audio content associated with each event. The app also alerts the user about upcoming live broadcasts.

In addition, the app includes a news service based on Vatican Radio's own news programs.

The radio section gives access to five different channels corresponding to the network of over 70 daily programs in 40 languages produced by Vatican Radio.

Vatican Radio will continue to work on the app, according to the description in Apple's App Store: "This is Vatican Radio's first version of this App. We promise to continue doing our best to improve and update. Stay with us."

Click here to download the Android version of the app
Click here to download the iOS version of the app
A fairly functional app that even allows you to listen to or watch some live events.  Some articles have linked mp3 content. I wasn't able to stream audio from the radio part of the app – could be a server problem though.