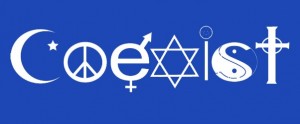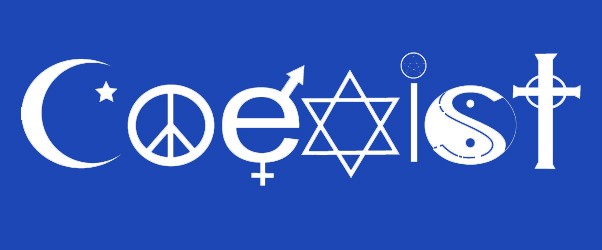 If there is one bumper sticker that I have seen the most of besides political ones it is certainly the "Coexist" sticker. There is something about this sticker that really annoys me. A reflex that does not exactly invoke tolerance for the person with the sticker.
Though why is this? The tolerance sticker like many things invokes a truth, but at the same time invokes an error. Now of course you can't expect a one word bumper sticker made up of religious symbols as a full statement articulating fully what the owner of the sticker wants it to mean. It certainly is rather clever in the use of religious symbols to spell out the word and that leads to its popularity. But the symbol for smarmy people who put this on their bumpers seems to be missing. The message really is "I'm tolerant, your'e not – get with the program."
There is also a "Can't we all just get along?" vibe and again there is a larger truth there. Religious tolerance properly defined is certainly something to be promoted and strived for. The original design came from a Polish graphic designer Piotr Mlodozeniec who designed it for an art contest for a museum in Jerusalem. It was popularized when U2 started using it on a backdrop on one of their tours. Considering the religious clashes that have occurred in Ireland you can see why it appealed to them.
Now you can't psychoanalyze someone from their bumper sticker, but you can look at general outlooks and make some guesses at what might motivate someone to choose this sticker. The fact that these stickers are sometimes combined with other left-leaning slogans helps to make these guesses. Though once I saw a "Coexist" bumper sticker with a "Nobama" one. From my armchair view my guess is that a large group of the coexisters are either not religious or of the "spiritual not religious" type. They are rightly scandalized by religious intolerance especially when it involves violence. Though at the same time know little about actual religious intolerance. For example I doubt if there is a large intersection between coexisters and those that are upset about the religious intolerance of the HHS Mandate. The fact that Muslim dominated countries severely restrict other religions is also something that pretty much passes them by. This view is grounded also in religious indifferentism which is another implied message of this bumper sticker. All religions should get along because they are all equally made up.
This idea of tolerance is something other than how the Catholic Encyclopedia defines it.
Toleration in general signifies patient forbearance in the presence of an evil which one is unable or unwilling to prevent. By religious toleration is understood the magnanimous indulgence which one shows towards a religion other than his own, accompanied by the moral determination to leave it and its adherents unmolested in private and public, although internally one views it with complete disapproval as a "false faith".
In fact if you told a coexister that you liked his "forbearance in the presence of an evil" sticker I am certain he wouldn't like that definition.
Mostly what annoys me is that the call of tolerance falls far short. I am called to love my neighbor, not just tolerate him. I am also called to love my enemy and not just tolerate them. But the false view of tolerance sees no allowed enemies. I am called to love those of other faiths and when possible to bring the Gospel to them. That type of fiery love is dissipated in the luke-warm water of tolerance.
If you look for the word tolerance in the Catechism you won't find it and you certainly don't find the false view of tolerance that levels all belief.
843 The Catholic Church recognizes in other religions that search, among shadows and images, for the God who is unknown yet near since he gives life and breath and all things and wants all men to be saved. Thus, the Church considers all goodness and truth found in these religions as "a preparation for the Gospel and given by him who enlightens all men that they may at length have life."