"This contraception fight in particular was illuminating. It was like being in a time machine," Obama told the crowd, many of whom had purchased tickets that cost $1,000 to attend. "Republicans in Congress were going so far as to say an employer should be able to have a say in the health care decisions of its female employees. You know, for a party that prides itself on being rabidly anti-regulations of almost any kind, for folks who claim to believe in freedom from government interference and meddling, it doesn't seem to bother them when it comes to a woman's health." [Via Gateway Pundit]
Well let's get into a time machine Mr. President.
First off we could rock it old school.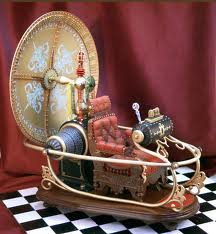 Or go all flux capacitor at 88 mph.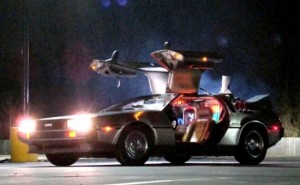 Now we can travel back to the founding of our country. A country largely founded to escape religious persecution. The colonists didn't get it all down as far as religious rights were concerned, but by the founding of this country the understanding of right to freedom of worship had coalesced. It is no coincidence that the first right enumerated was "Congress shall make no law respecting an establishment of religion, or prohibiting the free exercise thereof;". This means that even if you disagree or think outdated somebodies belief, Congress still can not prohibit the free exercise of religion. It doesn't matter if you think opposition to contraception, sterilization, and abortion quaint. An actual human right such as free exercise of religion predates any government and does not change just because Tuesday has lapsed unto Wednesday to paraphrase Chesterton.
Mocking Catholics for their opposition to contraception, sterilization, and abortion as if they were some throwback to some phony idea of medieval times is rather a low thing to do.  The violation of human rights is now a talking point on the campaign trail.  Something to be bragged about in front of picked friendly groups.  "I'm responsibly for killing Osama bin Laden and I am laying some kick-ass on Catholic to boot!"  Funny though how careful the administration was with religious sensitivity in burying Osama while going on to have no sensitivity at all to the concerns of faithful Catholics.
Getting back into our time machine of choice we will find that in the history of Christendom that opposition to contraception was universal.  Even the Protestant reformers described it in terms of mutual-masturbation and virtual sodomy. It was the Anglican Lambeth conference in 1930 that first opened up the "morality" of contraception in regard to married couples. Soon pretty much most of Christendom had fallen to this novelty and either the Catholic Church is the most pigheaded of all institutions ever, or she truly is being guided by the Holy Spirit.
Now as we use our time machine to survey the founding of this country I don't think we have to worry too much about time paradoxes and repercussions of affecting time.  After all what might be the worst that could happen – 60 million unborn children killed, assisted suicide, and the other emanations of the Culture of Death?  Instead of the killing your grandfather paradox we have the kill your own children paradox which is quite a paradoxical thing for a parent to do. Though by redefining the vocabulary you don't get rid of the paradox, you just make it easier to swallow.
"Republicans in Congress were going so far as to say an employer should be able to have a say in the health care decisions of its female employees."
No, they were saying employers should have a choice in what kind of health care plan they provide based on their right to freedom of religion. No employer should be forced to abide by somebodies else's conscience, they should be able to abide by their own. Employees can buy for themselves any kind of health care coverage they want that is not provided. Sure everybody always wants somebody else to pay for something, but that is a preference not a right. An employer not providing healthcare benefits does not prevent the employee doing so. Sure there are costs involved – but really if you need birth control pills you can buy them at target for $9 a month unless you have the shopping sense of Sandra Fluke. There is just no right to employer subsidized healthcare insurance.  Employer subsidized healthcare was originally a perk to attract people – unfortunately it attracted the government.
But I guess listening to the President is illuminating and like being in a time machine harkening back to every government that curtailed religious freedom for their own reasons.