Related to today's Gospel, here is one of my previous parodies from six years ago.
You are a committed Christian and you really want to do what Jesus tells you to do, but sometimes scriptural passages are difficult to interpret.
For example Matthew 18:21-22 says:
"Lord, how often shall my brother sin against me, and I forgive him? As many as seven times?" Jesus said to him, "I do not say to you seven times, but seventy times seven. "
Peter's measure definitely seems off and if you take the Bible literally it is pretty difficult to determine when you reach the limit of 70×7 (490). Just how do you know if you have accidentally forgiven somebody 491 times or more? This can be embarrassing in difficult relationship and what if you mistakenly undercount and stop offering forgiveness at a number below 490?
That was a messy and difficult problem. That was until we at Roncoe products made the 4GiveCount counter available at your local Christian bookstore.
With the 4GiveCount counter you will always know where you are at when it comes to forgiveness. No more messy mistakes and uncertainty when it comes to mercy.
Simply enter the names of those people you come into contact with into your computer or PDA's address book and download it via a USB cable into the 4GiveCount counter and your ready to start. Every time somebody does something and you forgive them all you have to do is select their name in the Forgive Person display and then click the forgiveness button located on the upper left side of our special counter. This will increment the forgiveness counter by one for the currently selected person.
Our counter can be set to one of three forgiveness modes.
* Peter – If you are like St. Peter and believe that seven is a generous limit for forgiveness then select the Peter mode.
* Literal – To follow just what Jesus said in the Bible select the literal 70×7 mode.
* Jesus – Some biblical interpreters hold that Jesus' statement was meant to be symbolic by giving us a relatively high number. If you follow this interrelation select the Jesus Infinity mode. *
When you increment the forgiveness counter and it detects that you have forgiven them past the upper limit as determined by the selected forgiveness mode- the Mercy Overload lamp will start to flash to warn you that you need not offer forgiveness. That's all there is to it and you will always be sure you have done your part.
But wait there is more!!! If you order your own 4GiveCount counter by midnight tonight we will throw in a blessing counter. You are always being told to count your blessings and it is just so easy in the rush of everyday life to loose track. With our reliable and durable blessing counter you will always know just how blessed you are!
* If you select the Jesus Infinity mode and you notice that no matter how many times you increment a persons forgiveness index that the Mercy Overload lamp never comes on – don't worry this is normal operation. This accurately simulates Jesus in that no matter how high your current forgiveness index is, his Mercy Overload lamp also never lights.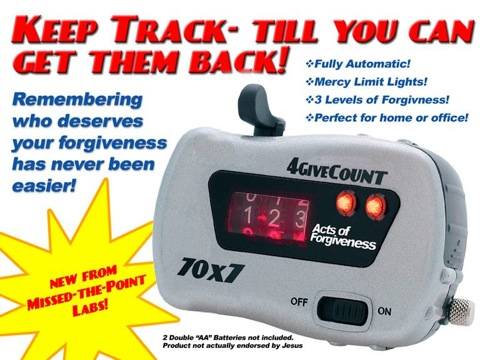 * The graphic was done by Brad Sutton, a Point Church Pastor, who  saw this parody over at SperoNews and referred to in in a sermon and even created a new graphic for it that was much better than my original graphic.