This weekend at the conference for the American Catholic Council you can see these womyn priests attending.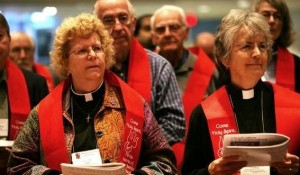 Yet who do they have celebrate the Mass?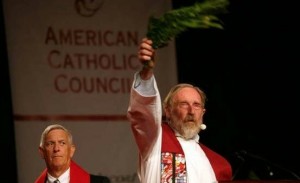 Yes a Male priest, Fr. Wurm. The oh so inclusive American Catholic Council excluded women from being the main celebrant.  Reports are that the womyn priests con-celebrated from their seats with the emphasis on con as in con job.  How dare they hold down the prophetic voice crying out for womyn priests and allow a MAN to be front and center.
From my inner snark I am all for them having womyn priests for their Masses.  This way they aren't profaning the Eucharist since they won't have the Eucharist, but just a Protestant service.
Now, the Archdiocese of Detroit said it will conduct a review of the priest's actions.

"There were several, serious liturgical abuses at that service," said Ned McGrath, spokesman for the Archdiocese. "It's disheartening that a Detroit priest would preside over a service with so many…serious liturgical abuses. There will be — has to be — a careful and thorough review."

Wurn told the Free Press afterwards he was aware that Archbishiop Allen Vigneron had explicilty warned all priests and deacons to not participate. But Wurm said he's not worried being punished.

"I don't see that happening," Wurm said. "I'm older than he (Vigneron) is." [Source]
What?
Update: Larry D at Acts of the Apostasy was thinking along the same lines as myself.