Yes it is getting harder to do parody.  Here is another instance of Prophetic Parity.  First the real news story.
Terry Brown
From: Herald Sun

SINFUL drivers can repent on the run with the opening today of Australia's first drive-through confessional.

The pray-as-you-go service is to become slicker, with a sin-selection board to be installed by Easter and a smartphone app on the way.

South Melbourne Catholic priest Fr Bob McGuire said yesterday that the move brought the church up to speed with modern life.

"Everybody drives past this place but no one comes in," Fr McGuire said.

"Now they can stop at the window, open their window and confess their sins. Then I'll reassure them that they'll be right."

Do you think the drive-through confessional is a good idea? Tell us below

The 60-second car wash for the soul includes a symbolically refreshing spray of rose water.

A flashing green light will signal when a driver's sins have been forgiven. "When you're driving out you'll be clean as a whistle," Fr McGuire said.

The seven cardinal sins – lust, gluttony, greed, laziness, wrath, envy and pride – will be numbered on a sign, Chinese menu-style.
Father Z has comments.
This is treating Confession like a joke.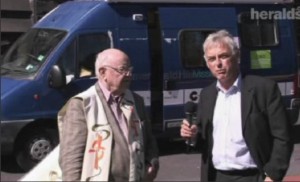 This is Father McGuire – what the heck is he wearing?  Not exactly a purple stole.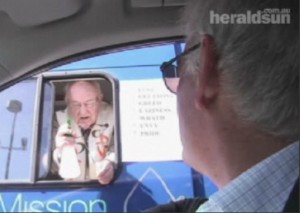 A picture of Father McGuire in action with his sprayer.
On 7 September 2009 Maguire announced on his blog that he had been contacted by church authorities and asked to tender his resignation on his upcoming 75th birthday. He replied with a public announcement that he would leave the decision of whether he should stay or go to his congregation.
His bishop wrote a column on why McGuire must retire, yet ended up leaving him in the parish till 2012 with the resulting public outcry.  What he is doing now goes beyond embarrisment and must be stopped by Archbishop Hart.
Now for my previous parody:
The question though is what is the best method to get American to frequent the confessional? In this fast food culture maybe we could appeal to a fast food idea like drive thru confession. I propose a new company called Jiffy Shriven after the Old English term to go to confession.

Here would be my logo.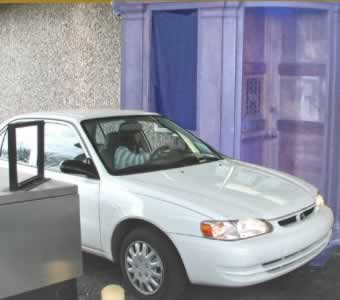 And a sample drive thru.
And to easily remind people when to return to confession, the following sticker could be placed on the driver side windshield.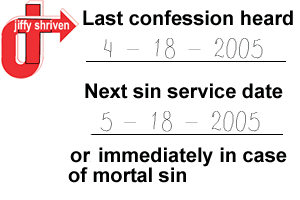 While your there they could also check your holy water font or holy water bottle level to see if more fluids need to be added. Though you won't have to worry about them trying to hawk other sacrament while there. You won't hear "I noticed you are not looking so well. We can give you final unction as part of a package deal."