If a church is worried that heartless Grinches might steal from its Nativity scene, it can tag the Baby Jesus with a GPS tracker.

BrickHouse Security is providing free GPS trackers to churches and communities across the country.

Religious institutions and nonprofits can enroll in a program to get a free Spark Nano GPS tracker to install inside a Baby Jesus statue or attach to a Menorah.

That way if a thief makes off with a cherished treasure, the church, synagogue, or other group can log on via computer or mobile phone to track the missing items. [Source]
Some might remember my prophetic parody from years ago:
Find Jesus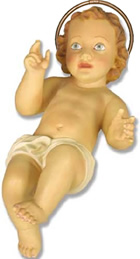 Do you know where you Baby Jesus in your Nativity set is? With the rash of Baby Jesus thefts across the country whether it be public or private land how can you be sure? Do your check your lawn often fearing some Nativity scene napper with who know what nefarious scheme? Or perchance that it will be stolen only to be returned later with glued on devil horns as happened recently in Norwalk, Connecticut. Have you considered even resorting to using a chain attached to the leg of the Baby Jesus regardless of the atheistic of this act?

If so you might consider our new product – Find Jesus®! Our plastic Baby Jesus plastic doll product Find Jesus® comes with and embedded GPS transmitter, external antenna, and combined with our unique receiver you will know where it is at all time. You won't be omnipresence, but you will know where Jesus is at all time. No more late night worries or concerns will plague you.

This GPS loop transmitting antenna cleverly disguised as a halo will ensure that you can track your Baby Jesus no matter where it is taken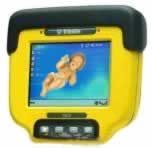 The provided GPS receiver will help you track down your property if it does come up missing. This small compact unit will give you an exact location at every moment. If it detects that it has been moved from the preset position an alarm is sounded immediately. Simply follow the onscreen and audible instructions to retrieve your Baby Jesus or to provide the police with its location. Jesus tells the parable of the lost sheep which he was willing to go look for and find. Return the favor and Find Jesus®.

You might wonder how we can offer such compact and beyond state of the art technology? We have developed a new process called Niño Technology. Niño Technology provides very small programmed machines that operate the receiver and transmitter.

So do you know where your Baby Jesus is? You will if you have Find Jesus®