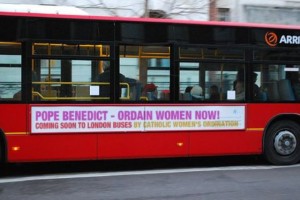 Protests are planned throughout his four-day trip to England and Scotland, the first papal visit since John Paul II's pastoral visit in 1982 and the first-ever official papal visit to Britain.

One group of women, Catholic Women's Ordination (CWO), will have its message plastered on the side of the buses as they travel along key routes, including past Westminster Hall, at the Palace of Westminster, where the pope is set to deliver a speech to Britain's civic society on September 17.

The group has paid 15,000 pounds ($23,130) for 15 buses to carry the message "Pope Benedict – Ordain Women Now!" for a month.

"We do not want to be disruptive, but I think the church has got to change or it will not survive," CWO spokeswoman Pat Brown told Reuters.

"I am quite hopeful at the moment because I think the church is in disarray." [Source]
Quick the Church is in disarray, let us take advantage of the situation to change dogma. Well I am sure the Arians felt the same way.
Actually I am quite concerned about this. We must protect the Pope from seeing such a bus sigs. Any exposure could lead him to deny the constant teaching of the Church and something infallibly defined by the ordinary magisterium. I mean the constant pressure of the very small amount of attempted women's ordinations. Plus there are those protests by angry women on street corners with signs. I got to admit they really pulled out all the stops now springing for a bus advertising campaign. I mean how could you get more persuasive than a five-word slogan? Plus the rhetorical flourish of using the word "now" followed by an exclamation sign.  Besides just because something is the will of Christ does not mean we should keep following it.  If Jesus only knew about equality there would have been six women Apostles and his mother would have been one of them.
Update: Here is a funny parody on this subject from the always funny Alive and Young blog: