Meet the anti-Mother Teresa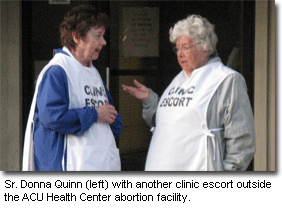 Nun Volunteering as Abortion Clinic Escort in Illinois
by Kathleen Gilbert
Lifesite News

– A Dominican nun has been seen frequenting an abortion facility in Illinois recently – but not, as one might expect, to pray for an end to abortion or to counsel women seeking abortions, but to volunteer as a clinic escort.

Local pro-life activists say that they recognized the escort at the ACU Health Center as Sr. Donna Quinn, a nun outspokenly in favor of legalized abortion, after seeing her photo in a Chicago Tribune article.
Yikes! Though I am only surprised we haven't seen a article written by her condemning the Vatican investigation of American religious orders in Commonweal or the National Catholic Reporter.
The most shocking part is she is from Chicago. Wow, there are hardly any pro-abortion advocates in Chicago. Maybe Catholic Progressives can get their "pro-life" President Obama from Chicago to talk to her.
Update via Diogenes
Sr. Patricia Mulcahey, OP, Quinn's Prioress at the Sinsinawa Dominican community, said in an email response to LSN that the nun sees her volunteer activity as "accompanying women who are verbally abused by protestors. Her stance is that if the protestors were not abusive, she would not be there." Though Sr. Mulcahey claimed that her sisters "support the teachings of the Catholic Church," she declined to comment on Quinn's public protest of Catholic Church teaching.
More proof there is absolutely no reason for the Vatican's visitation.