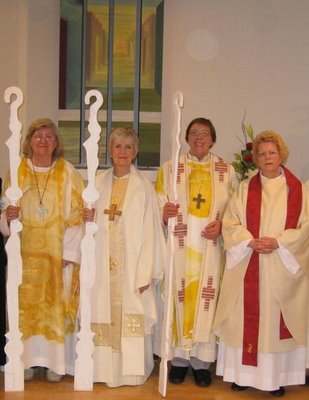 This is a picture from the latest women's "ordination" that occurred on Apr 20th in California in an undisclosed location.
As Orate Frates points out "If excommunication was not such a serious matter the photo would be laughable."
I do think that their croziers really point out a reality. These croziers that seem to be taken from a picket fence and then band-sawed into form speaks truly. These two-dimensional staffs that look more like a prop in a children's stage play than a real bishop's crozier is quite an accurate comparison. The reality of women's ordination is that they are play-acting regardless of what they think will happen. The two-dimensional staffs also represent the 2D view in which they see the priesthood. For the women's ordination movement priesthood is all about power and being part of a power structure. Service to Christ is something that never makes it into their press releases. Their 2D view does not have the humility to submit to Christ and to dive deeper into the theology of why Christ only chose men as his Apostles. To try to understand this in the false light of equality is to say that everybody must be the same part of the Body of Christ or we are unequal. The Church in her humility says this was willed by Christ and we do not have the authority to change this. The women's ordination movement says that they have the authority to say that it does and that it can even trump the Pope. I wonder how long it will be until they elect their own pope? Or is it as in the case of all dissidents is that each one is his own pope? One of the things that annoys me the most about them is ironically how they denigrate women in the Church. Their view basically says that the role of women in the Church since the beginning has not been all that important and that only with women priest's is equality created. That I guess somehow St. Teresa of Avila a Doctor of the Church is less equal than her friend St. John of the Cross also a Doctor of the Church since he was a priest.
This so-called movement likes to frame itself in bravery as going against the hierarchy and acting strongly. Yet they have "ordinations" on riverboats and unannounced locations. The martyrs in proclaiming Christ and reforming the Church were willing to lay down their lives for Christ and his Church. The women's ordination movement goes into hiding from their local ordinary.
Please pray for these women who have incurred excommunication that they will repent and subsequently lead lives of holiness building within the Body of Christ.
Updated: In Philadelphia two women were "ordained" in a Synagogue (second time that has happened I believe).
Fresen, sitting at DiFranco's dining room table, tried to reassure her that "excommunication only takes effect if you let it."
I will try that next time I am pulled over by the police. "No officer I will not let this ticket take effect on me."
"Nothing can put you out of the church," Fresen said. "Once you are baptized, you are baptized into Christ."
Of course excommunication does not remove you from the Church. But if you die in mortal sin baptized or not you will go to Hell. We can with our freewill remove ourselves from the effects of grace and lose sanctifying grace.
Fresen insists there is an underground of support for female clergy, even among the hierarchy. When a South African bishop she knew learned of her ordination to priesthood, she said, he not only blessed her "but asked me to bless him" as well.
No doubt there are underground supporters in the hierarchy and they are even more cowardly than the women if they hide their convictions.