Were you once a gamer or just always wanted to give it a try, but
you thought that your reflexes were just not up to it? You have seen
cool music related games that while they look like fun – just aren't
your style?
Have you ever wanted to pretend to be a church organist and just
never had the time or musical ability to pursue this skill? That it
would be so cool to put your fingers to the keyboard and produce
awesome church filling organ music?
If you have answered yes to any of these questions than the company behind Grand Theft Theology and other fine games has the game made just for you.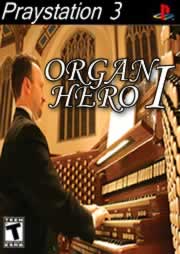 Organ
Hero I is the ultimate in rhythm video games where you are not limited
to just a few frets like in other games but row after row of keyboards.
During
game play a scrolling flow of colored notes appear one by one along
with the music. After you see the note quickly press the proper
note on the keyboard that is related to the color code.
Sure
this game is much more challenging than others in this genre, but you
are an adult now ready for a real challenge. After just a few
short months or years you will be ready to play the game beyond just
the beginners level.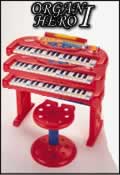 Included
with Organ Hero I is the organ peripheral used for gameplay. Each
key of each of the three keyboards is color coded to match the notes on
the screen.
If yo want you can buy more organ controllers and daisy-chain them together to give you even more keyboards to use.
The
organ controllers include a subwoofer to give you those bone-jarring
vibrations when you play the lower not to give you the ultimate in
large church organ simulation.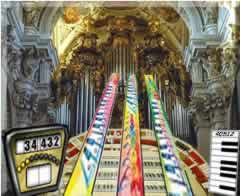 Here
is an actual screenshot from Organ Hero I! The three colored rows
represent each keyboard and you can easily see which is the next key to
select.
Unlike in real life you can compete against your friends
with Organ Hero I. Just try bringing an organ from your church
over to a friends house.
You can even choose from a variety of
performance areas. Whether you want to select a famous cathedral in
Europe or a smaller church you will soon feel like a seasoned organist
on a world tour. Give a organ recital without ever leaving your
living room.
With Organ Hero I you learn to play against a wide
variety of great organ music and we're not talking In-A-Gadda-Da-Vida.
If you are Catholic you might just think "Hey, didn't the organ go out
with Vatican II?" Well not quite, Sacrosanctum Concilium actually said
"The pipe organ is to be held in high esteem in the Latin Church, for
it is the traditional musical instrument, the sound of which can add a
wonderful splendor to the Church's ceremonies and powerfully lifts up
men's minds to God and higher things." In fact Organ Hero I is
the official game of the Second Vatican Council.
So please
support high quality and high culture gaming by buying Organ Hero I
today. We know that you are ready for something new. Though
we have to warn you that if Organ Hero I dose not do well in the market
we will have to lower ourselves to other products like "Liturgical
Guitar Hero" and don't you already have enough of that from your local
Catholic parish? Do you really want your kids asking you to buy
"Liturgical Guitar Hero" and then rocking out in your living room like
they were at a Lifeteen Mass. 'nuff said – please support Organ
Hero I.
*Thanks to Javier Plumey for permission to use this idea that came from the excellent and always fun Hands and Feet podcast.