There is an ad from the Louisiana Democrat Party currently running against Bobby Jindal that is extremely misleading even by political ad standards.
The Rothernberg Political Report notes:
In one of the hardest hitting – Republicans will undoubtedly say "dirtiest" – television ads aired in history, the Louisiana Democratic Party is accusing Rep. Bobby Jindal of being anti-Protestant.
The bizarre charge is delivered by an unidentified woman in a new Louisiana Democratic Party TV ad produced by Carvin/Seder Communications, a Louisiana-based consulting firm whose clients have included former Governor Edwin Edwards (D-La.), Kansas Governor Kathleen Sebelius (D) and New Orleans Mayor Ray Nagin (D).
In the TV spot, the announcer charges that Jindal wrote articles that "insulted thousands of Louisiana Protestants," and she holds up an article in which she says Jindal "doubts the morals and questions the beliefs of Baptists, Methodists, Episcopalians, Pentecostals and other Protestant religions."
Captain Ed took a look at the New Oxford Review article the ad was partially based on and found their accusations to have no merit. The article itself is behind a subscription firewall so it is not easy for most people to verify the accusations without paying for the article.
However, the Democrats have proven themselves intellectually dishonest in this attack on Jindal. Their website lies about what Jindal has written, hiding behind NOR's subscription-only skirts to throw mud at Jindal. The party which sells itself on its supposed tolerance wants to pillory Jindal for his Catholicism and scare up anti-Catholic bigotry through lies and deceit.
You can see the YouTube version of the ad here.
The misleading tactics against this Catholic politician reminds me of another organization.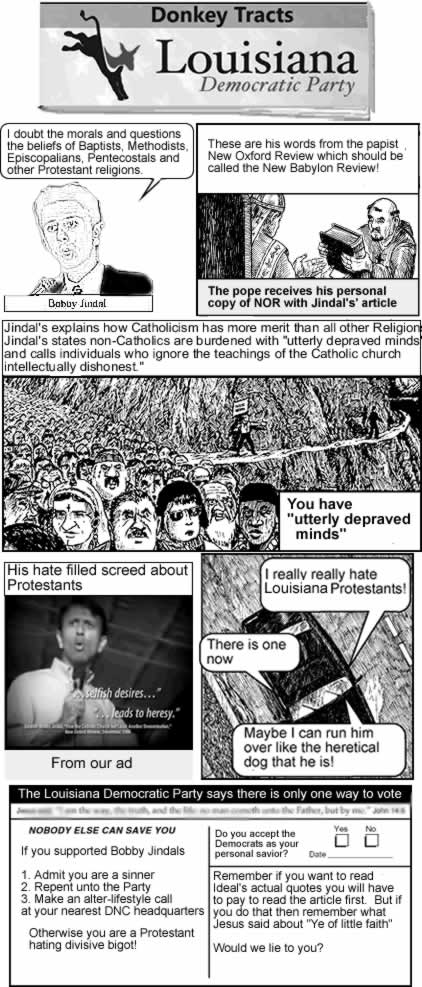 It also reminds me of the two anti-Catholic bloggers who worked for
the John Edward's campaign before they got fired.
HotAir reports that Jindal's Wikipedia page is being edited with this smear.