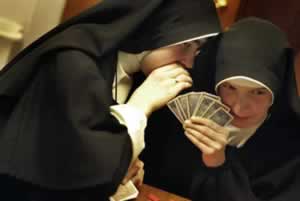 "Pray for a better hand if you are going to win Vatican Holdem"
Manila – Conservative Roman Catholic bishops in the Philippines were not amused when three nuns were photographed playing slot machines and blackjack at a gaming fair in Manila.
The church, which frowns on all forms of gambling, launched an inquiry and says the nuns could face sanctions from the Catholic Bishops Conference of the Philippines if found to have sinned.
Archbishop Oscar Cruz told local radio Tuesday that he has ordered an investigation and will take "steps on the sisters' actions."
Cruz said the church "strictly prohibits men of the cloth… including nuns … from gambling."
Cruz said the church recently defrocked a parish priest who was caught gambling in a provincial casino.
He described as "shameful" photographs and television footage showing nuns playing blackjack and trying out slot machines at the launch of a Gaming Expo in Manila.
Philippine Amusement and Gaming Corporation spokesperson, Edward King, described the incident as "innocent."
"The sisters are innocent of the ways and means of the world. I'm not saying they are saints."
He said the nuns "played without money" and denied the nuns were tricked into playing blackjack and using the slot machines.


* The above picture is not from this story.
In a related article CBCP Spokesman Monsignor Pedro Quitorio said it was inappropriate for Archbishop Antonio Tobias for attending the launching of the Gaming Expo at the World Trade Center in Pasay City which is where the nuns were also photographed.
In a separate DZMM interview, PAGCOR spokesman Edward King said the nuns played without money.
Now as to gambling itself the Catechism states:
2413 Games of chance (card games, etc.) or wagers are not in themselves contrary to justice. They become morally unacceptable when they deprive someone of what is necessary to provide for his needs and those of others. The passion for gambling risks becoming an enslavement. Unfair wagers and cheating at games constitute grave matter, unless the damage inflicted is so slight that the one who suffers it cannot reasonably consider it significant.
The case can certainly be made that this bishop and the nuns showed a lack of prudence and the Canon they were referencing is a sort of catch all.
Can. 285 §1. Clerics are to refrain completely from all those things which are unbecoming to their state, according to the prescripts of particular law.
§2. Clerics are to avoid those things which, although not unbecoming, are nevertheless foreign to the clerical state.
And Canon 672 on the section of consecrated life says that Can 285 is also applicable to them.
What I find so interesting is how the Bishops conference in the Philippines moves to act very quickly in matters where public scandal of priests and religious are involved or that a bishop was singled out by the spokesman for the Bishops conference for criticism. Their threshold for what constitutes public scandal seems to be quite low there, where I am not exactly sure if there is any such threshold in the U.S.
Now let us look at a story here in the U.S.
"I need to be on the other side of the table. I need to listen and I need to be a voice for the people," said Sister Matthias Wemm, one of four Democrats seeking three open council seats in the May primary.
Wemm, 66, a Sister of Mercy, said she sought permission from her order and from the Almighty to run for the office.
"He says, 'This is your decision. I'm with you and holding you in the palm of my hand,"' Wemm said.
"Politics, from the best I can see, is a pretty rough game, and I said, 'Are you sure you want to do that, Sister?"' said the Rev. John Skirtich, pastor of the St. Maurice Roman Catholic Church in Forest Hills, about 10 miles east of Pittsburgh.
Wemm has taught at St. Maurice School for 21 years.
If she wins, Wemm wouldn't be the first nun to serve in an Allegheny County municipality. Sister Mary Gregory Schessler of the Sisters of St. Francis is a Millvale council member.


A nun running for public office and seemingly given permission from her order despite the provision of Canon 285 "forbidden to assume public offices which entail a participation in the exercise of civil power." Canon 672 says that Canon 285 applies also to those in religious institutes.
Now as for her getting permission from God, I want to see the paperwork. Will she run a campaign ad "I AM approved this message?" It helps to have friends in high places when running for office, but this is ridiculous. Though somehow I think God does not want somebody consecrated to him violating Canon law and just calling it your decision.