THE POPE, who is this week meeting the Archbishop of Canterbury, is drawing up plans to welcome disaffected Anglicans into the Roman Catholic Church.
Pope Benedict XVI is keen to reach out to conservative Anglicans who have been antagonised by their church's stance on women priests and homosexuality. Senior Vatican figures are understood to have drawn up a dossier on the most effective means of attracting disenchanted Anglicans.
The recruitment drive is a potential embarrassment for Rowan Williams, the Archbishop of Canterbury, who is travelling to Italy for his meeting with the Pope.
It is understood that Fr Joseph Augustine di Noia, undersecretary of the Congregation of the Doctrine of the Faith, the most powerful of the Vatican's departments, has led a team analysing the current schism in the Anglican world.
…In America, some of the 2.5m Anglicans have already left the church and become Catholics. In some cases, entire parishes have "defected", but they have been allowed to continue with some of their Anglican traditions and prayers.
John Myers, the Archbishop of Newark, New Jersey, who has been involved in supporting former Anglicans who have converted to Catholicism, has been helping di Noia with his recruitment dossier. He travelled to Rome last month to suggest ways of appealing to Anglicans.
The Pope's enthusiasm for bringing traditional Anglicans into the fold was expressed powerfully three years ago when as Cardinal Ratzinger he sent greetings to a group of conservative churchmen meeting in Texas in protest at the election of Robinson.
The way the article is framed this seems rather dubious. As if they was planning some specific recruitment drive aimed at conservative Anglicans. For one thing what can the Vatican do compared to what the Anglican communion isn't already doing to repel conservative Anglicans?
There could be some things in the works though. The website for The Pastoral Provision, the process to bring in Anglican priests into the priesthood, has recently been spruced up. There could also be an effort to make Anglican Use parishes more available – though this is just conjecture. Any effort to heal the schism is very unlikely since the split has been widening at a pace to make the Grand Canyon seem like a crack in the sidewalk by comparison. Any efforts at this will primarily be done at the individual and the rare case a whole parish level. Diogneses has a good post on this subject.
Now if there was an actual campaign to attract disaffected Catholics – what would it look like? A campaign could be the reverse of this one in a Simpson's episode.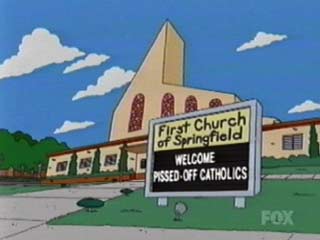 Though "Welcome pissed-off Anglicans" just doesn't have the desired ring to it.
Maybe something more like this.