Next years Super Bowl is going to be held in my adopted home town of Jacksonville, Fl and I happen to know some people on the planning committee. They are really concerned about the half time show and want to make sure that the burlesque show and pornographic posturings that happened this year in Texas will not be repeated. They also don't want to totally dumb it down to the level of Barney and would still like to appeal to key demographics.
In a surprise turn of events Janet Jackson has agreed to appear for free and to wear a costume specially engineered to prevent any possible wardrobe malfunction or sexually suggestive moves.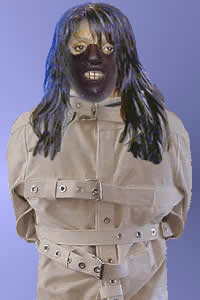 (Janet Jackson at costume try out with
specially modified corset and jacket.
Roto Reuters/Howard Mason)
Other male performers will be outfitted with a specially made metal jockstrap connected to a 10,000 volt battery. Contact to the groin area with their hands or any other body part will zap the performer into unconsciousness. Thus ensuring a shocking half time show.