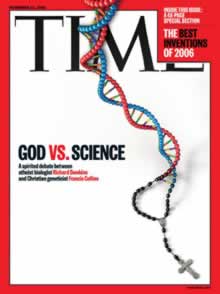 I saw this Time cover over at Evangelical Catholicism and I thought that the Rosary picture is quite profound even if they didn't mean it that way. A title like God vs. Science is like Reason vs. Logic.
The picture shows a seamless interweaving of life and the Rosary. This picture also reminded me of what John Paul II wrote in Rosarium Virginis Mariae.
Thus the simple prayer of the Rosary marks the rhythm of human life
That just as DNA is fundamental to life, so is prayer. Each strand in DNA is a chain of chemicals called nucleotides. There are only four nucleotides in DNA: adenine (abbreviated A), cytosine (C), guanine (G) and thymine (T) and are used to make up all of the sequences. There are also only four types of prayer (A)doroation (C)ontrition (T)hanksgiving (S)upplication. Every prayer is made up of at least one of these sequences and the perfect prayers like the Our Father are made up of all four.
DNA has been called the chain of life and the Rosary has been prayed in what are called life chains. Fr Groeschel also wrote a wonderful book called The Rosary: Chain of Hope (which includes the Luminous Mysteries) There are DNA ladders and Ladder Rosaries.
I think this picture truly has a lot to meditate on and I think Time has produced a very good icon even if done unintentionally.
Here is a related story.
Vatican, Nov. 06 (CWNews.com) – There is no conflict between Christian faith and scientific truth, Pope Benedict XVI assured participants in this week's plenary session of the Pontifical Academy of Sciences.
In an English-language address to the 80 scientists, gathered in Rome for a discussion on scientific accuracy and the limits of prediction, the Pope conceded that many people see the progress of science as a reason to dismiss faith.
But in fact, the Pope said, scientific inquiry itself is part of God's plan for mankind. And science has its own limits, he added. "Science replace philosophy and revelation by giving an exhaustive answer to man's most radical questions: questions about the meaning of living and dying, about ultimate values, and about the nature of progress itself." Regarding the specific theme of the Pontifical Academy's discussions, the Holy Father said that scientists have a moral obligation to accuracy, and to recognizing their own limitations. In practical terms, he said, "this means avoiding needlessly alarming predictions when these are not supported by sufficient data or exceed science's actual ability to predict. But it also means avoiding the opposite, namely a silence, born of fear, in the face of genuine problems."