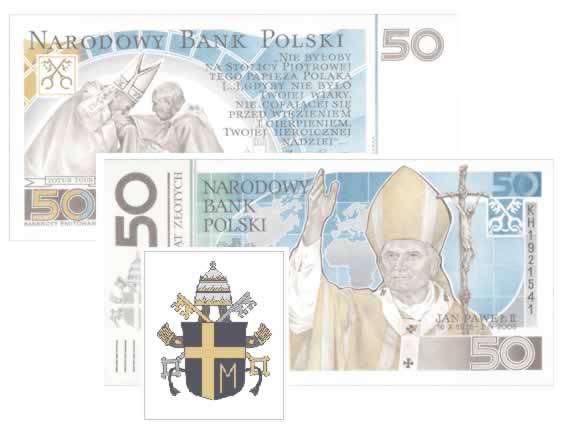 WARSAW, Poland –Poland's central bank on Monday issued 2 million collectors' bank notes bearing the image of the late Pope John Paul II, marking the 28th anniversary of the late pontiff's election.
John Paul, born Karol Wojtyla in the Polish town of Wadowice, is revered in his homeland, where he helped to inspire the pro-democracy Solidarity movement in the 1980s.
The National Bank of Poland's special notes have a face value of $16, and sell for $29.
The front of the bills feature an image of John Paul II holding his crucifix-topped staff against a background of the world map.
On the back, John Paul is depicted kissing the hand of a Polish cardinal. The design includes a quote from the late pontiff: "There would not be a Polish pope at the Holy See if not for your faith, not backing down when faced with prison and suffering, your heroic hope."
Vuong Anh Toan, 39, who has lived in Poland since moving from Vietnam 10 years ago, bought three bills for his wife and son.
"I'm not a Catholic, my wife is, but I loved the pope," he said.


I am torn between this being really cool or an opportunist money making gimmick to take advantage of the late Pope's popularity . And in this case they are literally making money to make money.