You have to love Bill Donahue.
"Contrary to some news reports, this is not the first time that this make-believe game has been played. In 2003, the Associated Press reported that Judith Heffernan had 'performed baptisms, heard confessions, said Mass and participated in last rites as a Catholic priest" for the past 23 years. Even before Heffernan's 'ordination' in 1980, a woman was proclaimed 'Pope' on the steps of St. Patrick's Cathedral in New York; an anti-Catholic group, Catholics for a Free Choice, performed the ceremony in 1974. Similar things are done every day in the asylum, though the media show little interest in these stories.
"There is only one plausible reason why the media are covering this insane event: they have a vested ideological interest in promoting female ordination in the Catholic Church. In this instance, it's not the reporting, per se, that evinces a bias—it's the decision to cover the event that gives away their hand."
I liked Small but disorgaznized take:
Today, July 30, 2006, I will attain my boyhood dream of becoming an astronaut. A former astronaut will pin his astronaut wings on my lapel and I will have become an astronaut. I will then be able to pilot shuttle missions and lead the next manned expeditions to the moon and to Mars.
In unrelated news:
A number of self-deluded women are right here in Pittsburgh today to attend a ritual that they believe will make them ordained Catholic priestesses. The sacraments of the Church are not magic that works regardless of context. If one goes to confession but is not sorry for the sins they confess then they are not forgiven, regardless of the fact that the priest has said the words, "I absolve you". If you are married but you have never intended to be faithful or never intended to have children then it is likely that a marriage never actually occurred and the Church will likely declare it null when your spouse finds out.
The Pittsburgh Diocese issued a statement:
"This unfortunate ceremony will take place outside the Church and undermines the unity of the Church. Those attempting to confer Holy Orders have, by their own actions, removed themselves from the Church, as have those who present themselves for such an invalid ritual," according to the statement released by the Rev. Ronald Leng win, a spokesman for the diocese.

Joan Houk shows her "blessing cup."
Another article mentions her previous activities.
In July 2000, the Houks moved to Mt. Sterling, Ky., where Mrs. Houk served as pastoral director at St. Patrick while living in the church rectory with her husband. St. Patrick, founded in 1862, had always had a resident pastor, but Mrs. Houk assumed those duties.
"I did do funerals. I led Communion services when the priest couldn't come. When a priest was not available, I led Sunday celebration, and I did preach," Mrs. Houk said.
Besides her service in Kentucky, she has worked on a marriage tribunal; taught catechism as well as the Rite of Christian Initiation for Adults; and worked with her husband to prepare engaged couples for marriage.
So unfortunately nobody put a stop to her foolishness. The "blessing cup" is one she used while pastoral director which shows that she wasn't doing Communion services but was already pretending to be a priest. I guess the point of the story of the Emperor's new clothes would be lost on this parish.
Though it is quite funny that people who have abandoned Apostolic Tradition are quite fond of their own traditions.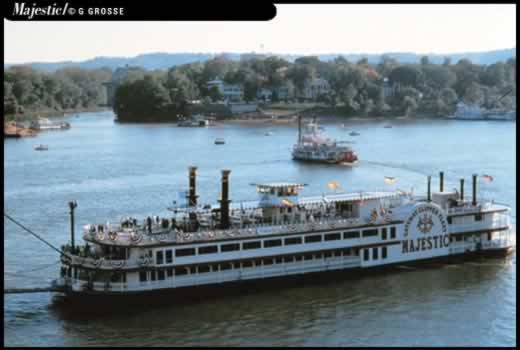 This is the boat that this faux-ordinations will occur on is called the Majestic and when not performing phony ceremonies does lunch and dinner cruises. Maybe female ordinations will become. I wonder if they think that ordinations done on dry land are invalid? The side wheel on the boat is purely ornamental and is just as fake as the ordinations that will be performed on it.