Over the last century many support groups have arisen for substance abuse, alcohol abuse, and other addictions. But until now one much needed organization was missing. What about liturgiholics who abuse the liturgy? People drunk on power to change the liturgy in their parishes to their own visions divorced from liturgical history have had nowhere to turn to. That is until now.
Introducing Liturgical Anonymous (LA) an international, spiritually oriented community of liturgical abusers who meet in local groups to help each other end this destructive addiction to changing the liturgy as one wants. Liturgical Anonymous follows a 12 step program and not one of the steps are a dance step.
The first step on the way to authentic liturgical recovery is of course to admit you have a problem. Many liturgical addicts deny they have a problem and will often brow beat those who complain about their "little changes" to make the liturgy more relevant and more oriented to the people. Denial is very common and when challenged to explain why all the attempts at opening the Mass to the people results mainly in declining Mass attendance will just complain that the pew sitters just don't get it.
Once a liturgical change addict admits they have a problem they are ready for Liturgical Anonymous. My name is [Insert Name Here] and I am a liturgical abuser. Welcome you are on the road to recovery.
As is often the case liturgical abusers just don't hurt themselves, but those around them. Those sitting in the pews often have misgivings about what they see happening, but also deny that there is even a problem. Parishes often even encourage this liturgically destructive behavior which makes it much harder for the liturgical change addict to admit they have a problem in the first place. We realize that liturgical education is the first requirement to stop this problem, thus we have also started umbrella groups to help out such as MALADY (Mothers Against Liturgical Abusing Destructive Yahoos). We must remember and to educate others that good intentions are not sufficient and that there are very good reasons for liturgical norms in the first place. The Mass being the highest prayer there is needs to prayed, not played with.
Here is an example of some of the steps in the process.
Admit that we have no right to change the liturgy of the Church.
Come to believe that there are liturgical documents greater than "Environment and Art in Catholic Worship."
Make a decision to follow the rubrics in the GIRM.
Make an examination of conscience and determine where you have deviated from liturgical norms.
Actually read the documents regulating the liturgy.
Our meetings include scripture study along with a study of the rich liturgical history of the Church within both the Eastern and Latin rites. With a greater appreciation of the organic development of the Mass former liturgical abusers find the richness that already exists and learn to appreciate it. The meetings used are based on official liturgical documents, texts from The Spirit of the Liturgy from both Romano Guardina and later from then-Cardinal Ratzinger, Jimmy Akin's Mass Confusion and other classic texts. Many of our members also require help to throw off the vapidness of most modern liturgical music. Most find that a too rapid introduction to Gregorian Chant for instance is too much beauty to handle so quickly. Thus are program slowly weans them off of the music of Haugen-Daas with a drug equivalent of music Methadone. This drug with a high sugar content is slowly reduced over time to allow a tonal rearrangement in the subject. For priests we have a special program called "Seeing Red: Rubrics are your friends." With liturgical dancers we helped to teach them that the only acceptable dance at Mass is attendance.
The meetings are open to church designers, wreckovators, liturgical dancers, choir directors, liturgists, makers of rainbow stoles, priests and bishops, and anybody else that freely admits to having a liturgical abuse problem. Though it sounds far-fetched this group centered treatment has even been effective on a couple of liturgists with college degrees! Though we have to admit much prayer and fasting was involved. At the end of LA meetings everyone says in unison the words of the Prefect of Divine Worship and the Discipline of the Sacraments – Francis Cardinal Arinze 'The do-it-yourself Mass is ended. Go in peace.'"
Our headquarters for Liturgical Anonymous has a 24 hour hotline staffed by liturgical counselors. If you ever feel tempted to deviate from the norms give us a call and we will help you to overcome this temptation. Alcoholics can go cold turkey and avoid bars, but the liturgical abusers must learn to be attend the Mass with full, conscious and active prayerful participation without thinking how they would have done it different or how they would have redesigned the sanctuary. Also difficult for our members is attending Masses with liturgical abuses without becoming overly angry. God has given us the Mass not to be a point of anger, but of grace. Concentrating on the invisible reality and praying the Mass takes precedence over tallying the abuses. We hope to one day open our hotline to everybody with liturgical concerns, but we can't yet hire the thousands of liturgical counselors that would be required.
Here are just some of the testimonial of successful members of Liturgical Anonymous: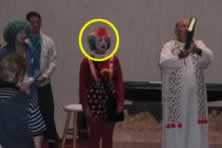 I'm John [Last name withheld] the former clown altar server. I served at many Masses especially in the seventies. I saw no problem with it at the time and even served with priests also dresses as a clown. In Persona Bozo presented no theological difficulties for me. I thought I was just bringing joy to the people, I mean what could be wrong with that? Then one day while traveling and looking for something to listen to on the radio I ran across a Catholic radio stations during a program on the Mass. The show talked about how the Mass was a representation of Christ's sacrifice on the cross. The the Council of Trent said the Mass maintains essential identity of both sacrifices, holding that the main difference between them is in the different manner of sacrifice — the one bloody the other unbloody. This shocked me to realize that this was the one and same sacrifice at calvary only represented. I realized that I would never have donned a clown costume at the foot of the cross. Any clown makeup would have been rent with tears. How could I bear to wear floppy feet as his feet were pierced with nails? Needless to say that ended my stint as a clown altar server forever. When I found Liturgical Anonymous they helped me to get passed my previous mistakes and to start a ministry to help other liturgical abusing clowns.

I am a priest and former "Designer and Consultant for Worship Environments." I worked on the renovation of traditional Catholic churches as well as for the design of new Catholic churches. To me beauty was stark emptiness. I just loved removing and destroying things. As a child I would build traditional churches out of Lego's than either destroy them with firecracker for my pleasure or to rip out the Lego high altars and altar rails. Later I found out that I could actually use my love of destroying traditional things and actually do it professionally. After seeing the work of fellow priest Richard Vosko I though if he can destroy all those churches with the actual cooperation of bishops, priests and congregations; then why couldn't I do that to. Being a priest it helped to give me a certain credential and it was easy to make up a architectural philosophy to justify my love of destroying traditional church architecture. When hired as a consultant they would actually listen to me when I talked about worship spaces for their "church" to become a parish centrum with an assembly hall. I told them that to live the spirit of Vatican II that they had to have a church to match and they bought it all. I always admired the architecture of gymnasiums and city halls so of course the central tabernacle, statuary, shrines, elevated sanctuary, Communion rails, baldacchino, high altars, etc all had to go. I would setup "revision committees" in these parishes and stack them with people sympathetic to my goals. There were often parishioners less than pleases with what I was doing. Using the various committees and saying things such as "the church will be restored in a way that reflects its original beauty" it was easy enough to stall the opposition. Over the years though I started to notice conversion stories about people entering what they considered to be "beautiful" churches and how the architecture had a profound effect on them that was used by God to later bring them into the Church. They would talk about such things as stained glass windows and how the sound of the pipe organ attracted them. Some of the very things I was ripping out they were talking about with joy. I told myself well beauty is in the eye of the beholder, but just why was it these conversion stories based on architectural beauty never happened in my redesigned churches or the churches of my fellow architects who had the same architectural philosophy? It hurt when my work was called "wreckovations", but I started to wonder if perhaps it was way too accurate a description. One day I ran across a local chapter of Liturgical Anonymous and decide to attend a meeting to see if maybe their were answer for my questions. I sat in the back row in the corner listening to the testimonies of others as they talked about the beauty of the liturgy and how it's prime purpose was to be oriented at the worship of God. That as the angels continuously sing Holy, Holy, Holy in praise and worship of God that that is what the whole liturgy is also directed towards. I realized that my structure did not exactly sing this out and that they were really made for praise of my architectural skills and their daring and not praise for our creator. Thanks to Liturgical Anonymous I am now relearning my craft and sitting at the feet of the masters who have gone before me. Not that everything has to be Baroque or Romanesque, but that it must be oriented towards the divine architect.
Here are some real world stories of former liturgical music abusers.
A Liturgical Guitarist Reformed
Confessions of a folk Mass guitarist
Is Liturgical Anonymous for you? If you want to control the liturgy then you may be a candidate for LA. If you belong to the Diocese of L.A. then you are probably an ideal candidate for LA. If you are in the below photo please call our offices now at 1-800-BAD-LTRG.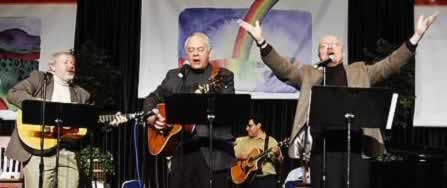 There is no disgrace in facing up to the fact that you have a liturgical abuse problem. So why not join now before some parishioners stage an intervention.
Remember "Friends don't let friends abuse liturgy."
*Other resources:


St. James in Ogden, Utah has an ideal program for those detoxifying themselves from liturgical dancing.