Today being the first anniversary of the election of Pope Benedict XVI here were my initial reactions one year ago.
Right now I am so full of adrenaline I think I could explode. Thank you Lord for Pope Benedict XVI. All of the news build up about Cardinal Ratzinger appearing to be favored I took with a large grain of salt. I have had nothing but admiration for this man as I have read his books since coming into the Catholic Church. His insights and understanding about the problems the Church faces in the modern world are excellent. His book on the liturgy, which I think should be required reading, is magnificent in his presentation of what should be the "reform of the reform" when it comes to the liturgy. His announcement as Pope to me is like Charlie Brown finally getting to kick the football that Lucy was holding. How many times did we hear "enter a pope, leave a cardinal" or that probably somebody who we don't even expect will be elected pope. I am currently in the middle of his book "God and the World" which is a fairly long book where he answers questions put to him by Peter Seewald. Reading the answers he gave I often though what a magnificent pope he would make.
Of course besides having this wonderful man as Pope we get the added bonus of him really annoying the dissidents. Probably one of the quietest place on earth was the offices of the National Catholic Reporter. For myself I was jumping up and down and screaming with excitement when his name was announced. All those who had hoped for changes in the doctrines of the Catholic Church now know that it isn't going to happen any time soon. No matter though who was elected this would have been true, it is just that they now realize it and once again will have to fallback to "maybe the next pope." position
One year later is is interesting to reflect on his first year and the slow and steady course he has set. The majority though you read from others on his pontificate is that it was different than they expected. Progressive are surprised that inquisitions didn't start the following day and I guess some conservatives felt the same way. It seems some have though he would swoop down from the sky correcting liturgical abuses. Those with these positive and negative expectations must not have observed his leadership for so many years as prefect of the CDF. Investigations were always long and thorough and were much more likely to ask for clarifications on something written compared to being disciplined. In the 26 years as the CDF's head there is are less were only two excommunications with Fr. Tissa Belasuriya later being reconciled to the Church and of course the case of Archbishop Marcel Lefebvre. In most other cases they just lost their license to teach theology.
I am not surprised at all that the Pope hasn't initiated drastic reforms. He not only participated in the Second Vatican Council, but experienced the aftermath as the council was hijacked by those not faithful to the Council's documents. Even very positive changes made in a rush could very well end up causing havoc. This would be the last thing I would expect from his pontificate. Knowing the Gospels as well as he does I am sure that he is laying out a good foundation on which to build such as his first encyclical Deus Caritas Est. The synod of bishops in Rome last year on the Eucharist covered many of these topics requiring reform. The rumor is that Pope Benedict will issue his post-synodal Apostolic Exhortation sometime in October of this year. His views on the reform of the liturgy are quite well known, less known is his roadmap for implementation of them or which ones he would prudently see should be implemented.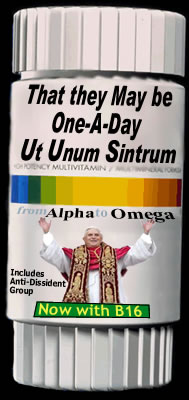 What I can say is that I have certainly enjoyed the B16 supplement I have been taking for the last year. His homilies and the off-the-cuff discussions and replies have been quite nourishing and I look forward to the continuing essential part of a spiritual diet. Now if only the Vatican could translate them into English much quicker than than have.
(Picture from my Now with B16 parody)
Amy Welborn also has her reflections.
Sandro Magister writes on Pope's style of listening to and replying to questions in public and he is also annoyed by the slowness of the transcriptions of the Pope's talks.
Christopher Blosser as usual has an excellent and extensive roundup.
Gerald also thinks the Pope is setting the tone for future changes.