In my podcast reviews some have mentioned the Cardinal Arinze podcast.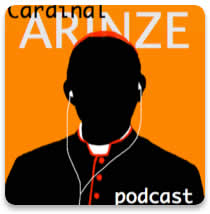 When I first saw this graphic at American Papist I though it was a good joke, but not an actual podcast. My mistake since the good cardinal is actually podcasting. This is great news since I so enjoy Cardinal Arinze who is straight shooter. You are always sure what he says and where he stands when he replies to something. So it is pretty cool to have the
Prefect of Divine Worship and the Discipline of the Sacraments podcasting. The only thing that would be cooler would be a Popecast. He could podcast about marriage and call it Pod Casti Cannubii. That would be a great aPODtolate.