Have you ever started a novena but lost track of what day you were on or accidentally skipped days? Have you ever intended to start a novena for a specific feast day and then only to remember about it five or six days before the start of the feast? If so then we have the perfect device for you.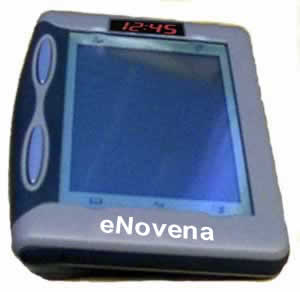 Yes the eNovena has everything you would want and more! Never again miss preparing for a major feast day or to haphazardly complete a novena. Check out these features!
The eNovena contains hundreds of popular novenas to use right away. You simply use the scroll keys to read through and pray your novena. The LCD screen is easy to read and you can increase the size of the text to suit your needs.
A complete liturgical calendar helps you to select the days of your choice. You simply select the days you want and the eNovena will remind you when to start the novena nine days before and on each subsequent day.
Once you select a day the eNovena will give you a list of appropriate novenas. You can choose one from the suggestion or choose from all novenas available.
You can connect the eNovena to a computer via a USB cable to download new feasts so that your liturgical calendar will always be up-to-date. Additionally you can import any novenas that have been formatted in our special novena import format called TOF (Tongues of Fire). TOF is extremely simple since it only uses apostrophes (related to the Apostles) as delimiters in a plain text format and is plug n' pray for all operating systems.
Now you would think that just with these features that eNovena was already packed with features, but wait there's more!
For those who are vision impaired you can choose an audible mode where a state of the art voice synthesizer will broadcast the novena for you to hear. Our system called Pentecast will read the novena in any language that you can understand.
To remind you of when to start your novena and to remind you of each subsequent day the eNovena comes with an alarm system. At first only light sounding chimes gently remind you to pray your novena. If ignored over the day the alarms get increasingly louder. You won't believe how we have managed to pack a train whistle into such a small case – but we have! If even these are ignored the device will start calling your cell phone in case you are not in listening range of the eNovena. Our special guilt mode won't let you put off the novena once you have assigned it to yourself. If all attempts to get you to pray your novena the eNovena will call and upload your name to our main website where a list of people who have failed to complete their novena are listed.
Once you have started using the eNovena you won't know how you got along with out it. Now we can't guarantee that your special intentions will be answered in a way you want when praying your novenas. See the user's manual for discerning God's will and praying for what is best for you or the object of your special intention. So whether you pray in an upper room or a living room you can now use the same technique first used by the Apostles and disciples to prepare yourself in nine days of prayer. So why wait? Get started now with your own eNovena!