As part of a new ad campaign Indra Nooyi, President and CFO of PepsiCo introduces a new product.
This analogy of the five fingers as the five major continents leaves the long, middle finger for North America, and, in particular, The United States. As the longest of the fingers, it really stands out. The middle finger anchors every function that the hand performs and is the key to all of the fingers working together efficiently and effectively. This is a really good thing, and has given the U.S. a leg-up in global business since the end of World War I.
However, if used inappropriately –just like the U.S. itself — the middle finger can convey a negative message and get us in trouble. You know what I'm talking about. In fact, I suspect you're hoping that I'll demonstrate what I mean. And trust me, I'm not looking for volunteers to model.
Discretion being the better part of valor … I think I'll pass.
What is most crucial to my analogy of the five fingers as the five major continents, is that each of us in the U.S. – the long middle finger – must be careful that when we extend our arm in either a business or political sense, we take pains to assure we are giving a hand … not the finger. Sometimes this is very difficult. Because the U.S. – the middle finger – sticks out so much, we can send the wrong message unintentionally.
Unfortunately, I think this is how the rest of the world looks at the U.S. right now. Not as part of the hand – giving strength and purpose to the rest of the fingers – but, instead, scratching our nose and sending a far different signal.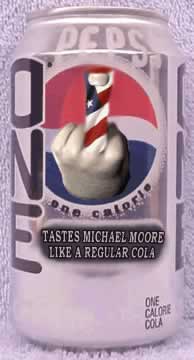 Yes Pepsi One a Pepsi for the Michael Moore generation. In fact if you have the girth of a nation like Michael, only one calorie can only be seen as positive. This new political Pepsi tastes just like Kool-Aid for those who just love drinking the Kool-Aid given them through Democratic talking points. After a hard day of protesting nothing will hit the spot like Pepsi One. Your parched throat will sing for joy after the many repetitions of hey, hey – ho ho. And who knows one day you too can become the president of a large American company and slam the U.S. also.
One symbolizes a quest for a one world government with the hope for it being under the United Nations controls so that one day we might be as peaceful as the Dafur region of Sudan. This is a drink not only for America, but for the world – it goes great with cheese and after a busy day of signing appeasement treaties you will be glad to slake your thirst as it easily runs down your throat as fast a the French from an invading army.
If you love our new product you might also want to check out some of our other fine re-branded products. Tora Bora Mountains Dew and We-hate-Condoleezza Rice-a-Roni.
If you love our new products please email us at boardofdirectors@pepsi.com
A proud sponsor of Moveon.org
Update: Welcome Hugh Hewitt fans (and thanks once again for a link Hugh). For those who have asked the statement in blue is take directly from her speech.
We can be thankful once again to Power Line for originally breaking the story.
Hugh also has her apology written in corporate-speak which includes:
"Over the years I've witnessed and advised others how a thoughtless gesture or comment can hurt good, caring people. Regrettably, I've proven my own point. I made a mistake and, again, I'm very sorry."
So working on and crafting a speech targeting an audience at the Columbia Business School is only a thoughtless gesture or comment. Wow that is pretty good that you can preplan and write a thoughtless speech