Jimmy Akin posts about the wonders of the iPod and its usefulness in playing back both music and audio books. As for myself I have not yet become an iPod people. I check around my bed before going to sleep to make sure no one had hidden an iPod anywhere about. Though I do fear being the last person without an iPod and having people pointing their finger at me and making that screeching noise. Well actually I do not have anything against the iPod which is a good player with the best navigation capabilities available. It is just that I need to be able to listen to asf files and I have already ripped 300 of my CDs to wma format. I record the Laura Ingraham, Hugh Hewitt, and Dennis Praeger show via an internet stream ripper that converts the internet broadcasts into asf files. Skipping over the commercials I can listen to a three hour show in considerably less than two hours while doing my work. I also download the Catholic Answers' shows and convert them from their Real Audio format to mp3.
A commenter on Jimmy's post mentioned an ftp site with a bunch of Catholic specific audio including many of EWTN's shows in mp3 format. They also have Imitation of Christ in mp3 format.
Since I listen to a bunch of audio that has commercials in it I looked for and found a good software player that has a hotkey fast forward feature so that no matter what I am working on I can hit a simple key combination to advance through it. Jetaudio is really good for this and it will also play back mpeg video. I am really cheap so the majority of software I use is free. To show how cheap I am the stream rippers I have used have been in both Korean and Japanese and required some tinkering to get to work For the non geek For the less cheap non-geek there are programs available like Replay Radio. Like the SodakMonk I have been into digital audio for a fairly long time. Though I am glad I converted before the advent of Napster or I would of racked up even more sin in the way intellectual piracy. As it was I had to throw away about 500 cassette tapes that I had illegally recorded while at sea. Though I guess it was appropriate that I did mos of my pirating of music and software while at sea, Aarrr!
As part of my Rome Depot parody I did have a product that would be useful in this context.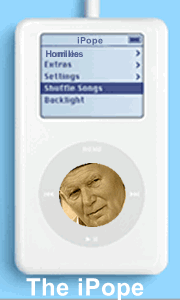 iPope – Get connected and be not afraid.