Listening to the homily at Mass today on the Beatitudes my imagination started to wander when it should have been engaged in wonder. As a kid I had been a big Beatles fan and when other kids brought 45s (showing my age) like the Archie's "Sugar, Sugar" for a school party, I brought the Beatle's Sergeant Pepper's album to class. I was rather disappointed when the teacher refused to play anything off of it. Now what does this have to do with a homily on the Beatitudes? Well the homily lead me to a train of thought where if I persevere and make it to Purgatory will probably cost me some extra time or whatever goes for time there. I wondered what if Paul McCartney had absorbed the piety of his Catholic Mother. What if John Lennon instead of shoplifting items from a Roman Catholic Bookshop had read books from there instead. Instead of the Lennon quipping "We're bigger than Jesus" we might have more of a John Lennon the Baptist and "He must increase, and I must increase." In this alternate reality we would never had had to suffer through the lyrics of Imagine and might have had something more meaningful. In this alternate reality what if the Fab Four had instead started a group called "The Beatitudes."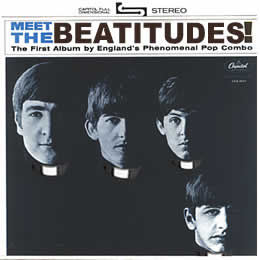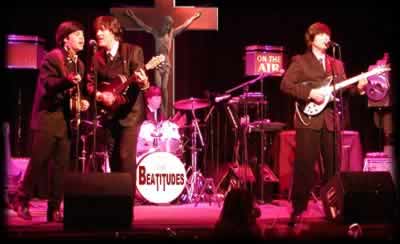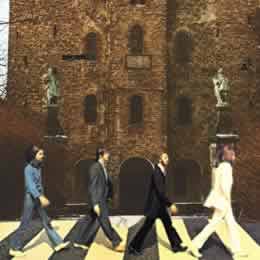 And of course Abbey Roads would be in front a a real abbey!
Hey Jude would be about the Apostle Jude and ticket to ride would be about Baptism.
And who knows maybe a Pope would have been named after The Beatitudes: Pope John Paul George Ringo I
And here is one of there hits, Mystery.
When I find myself in times of trouble, mother Mary comes to me,
speaking words of wisdom, mystery.
And in my hour of darkness she is standing right in front of me,
speaking words of wisdom, mystery.
Mystery, Mystery, Mystery, Mystery.
The Holy Trinity, Mystery
Father, Son and Holy Spirit three persons the Trinity
How is this reality, mystery.
For though they can't be parted there is still a chance that we will see,
This undivided unity. mystery.
Mystery, Mystery, Mystery, Mystery.
The Holy Trinity, Mystery
And when the clouds had parted, there is still a light, that shines on He,
This is my beloved son, mystery
I see a vision of his mother, mother Mary to us pleas,
Listen to his words of wisdom, mystery.
Mystery, Mystery, Mystery, Mystery.
The Holy Trinity, Mystery