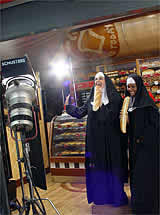 All hell breaks loose as nuns shake their buns
AN unholy row has erupted over Brumby's bakery's latest television campaign, which depicts nuns singing the praises of their bread products.
In the offending gospel-inspired advertisement, a choir – including of habit-wearing nuns – sing "Give us this day our daily bread" as they sing and dance around Brumby's products.
Brumby's managing director Michael Sherlock said Victorian-based Missionary Sisters of Service nun Sister Marcia McMahon had complained to the Advertising Standards Bureau, saying the ad was offensive and made a mockery of the Celebration of the Eucharist.
Mr Sherlock said the ad was loosely based on the Blues Brothers film and was designed to be memorable, not controversial.
"We can see their point, but we're not denigrating (nuns) in any way," he said.
"We've gone back and reviewed what we did and we feel we haven't deliberately set out to offend anybody and we feel on reflection it doesn't offend most people."
Mr Sherlock said the complaint was an "overreaction' and there was no suggestion Brumby's would pull the ad, which had received a lot of positive feedback.
"It's working well for us. We've examined it to see if there is any offence and we're satisfied it doesn't," he said.
Hey it is working well with us to sell bread so to heck with anybody that has a problem with it and it doesn't offend most people. Yep, that is a great advertising maxim – not offending most people. Now I am not usually easily offended by the secular use of Catholic imagery. I don't see all commercials involving nuns as an attack. It is interesting though just how many advertisers have this fascination with Catholic nuns that doesn't seem to apply to other religions. Just placing nuns in any secular setting is suppose to elicit some laughs. The image of nuns dancing around with loaves of bread and singing is pretty silly, though not really an attack against the Eucharist. Just an attempt at cheap laughs when advertising ideas run out.
Update: You can see the commercial for yourself here.