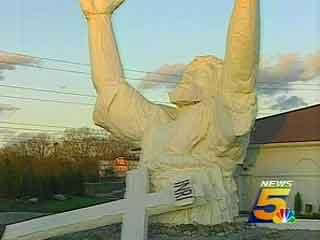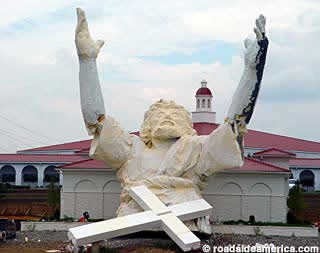 Image during constructon via roadsidearmerica.com
When motorists on I-75 see the 62-foot statue of Jesus alongside the highway, many have the same reaction, News 5's Emily Longnecker reports.
"It just makes you, it's like 'Wow,' " said Stephanie Nevels of Fairfield.
Tiffany Williams has been hearing about the statue since it was put up outside Solid Rock Church.
"It kind of took my breath away. I was just like, 'Oh my goodness,' " Williams said. "I had no idea it would be that big."
The giant messiah is gaining giant attention from newspapers and magazines across the country. One travel website calls it "Super Savior."
Church officials say the styrofoam and fiberglass Jesus is the largest one in America. And people are flocking to see it, says Mike Trent, who works at the BP gas station down the street. [Source]
My impression of this statue is "quick throw me a rope! I am drowning in quickgrass." I also think it is pretty ironic that "Solid Rock" church would build a hollow Jesus statue out of styrofoam and fiberglass. Though, after all the abstract Jesus statues – in comparison – this one is not too bad.