With the advent of bottled water many vendors
have made available spring water from many counties to suit the consumer.
While
there are literally hundreds of different bottled water source, they all
have the same draw back. The bottled water assumes the same temperature
of its surrounding. That is until now.
Introducing a new product of water available from the Lycus River
valley a few miles north of modern Denizli, Turkey. This water comes
straight
from the world famous Baspinar Spring.
This water is especially suitable to those once a week Christians
who go to Church but also manage a wall a separation from Christianity
and their actions. For those who are neither fervent or approaching
agnosticism finally there is the water just for you.
Introducing Laodicea (pronounced lah-od-ik'-i-ah) brand bottled water.

Not really refreshing or quenching, yet still it might be the water
for you. A special container always keeps your water the same tepid
temperature whether the area outside is hot or cold.
If your favorite Gospel is the Gospel of Luke-Warm then this is the drink for you.
For the budget conscience there is also the Laodicea tap warmer. Regardless
of the temperature in your water pipes or the conditions outside. Water
always comes out in the same fashion. Not piping hot or chilled but
just that right temperature right in between, just like your faith.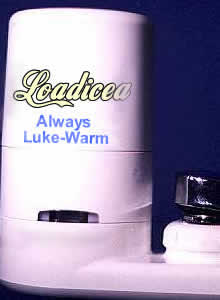 Surgeon General Warning: While this water will not make you sick it can cause an allergic reaction in Jesus causing vomiting. "So, because you are lukewarm, and neither
cold nor hot, I will spew you out of my mouth."