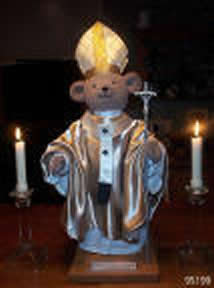 I found this picture in a Google archive while looking for some graphics for another post. This was made by a company that called it the Pope John Paul II Bear, though it no longer seems to be made. My demented brain brought to mind a couple of phrases that are used as a known unquestioned truth to express the truth in another statement. The phrases "Is the Pope Catholic?" and "Does a Bear s*** in the woods?" can now finally brought together as one phrase.
Now of course the Pope John Paul II Bear should come in different breeds depending on who buys it. For those people who can't bear the Pope: For liberals it would be a Grizzly bear, for the Radical Traditionalist it would be a Koran-kissing Care-Bear.
Relatedly, I found the following quiz.

Redneck Bear
Which Dysfunctional Care Bear Are You?
brought to you by Quizilla