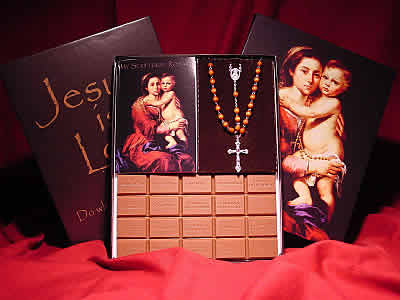 Give a gift of eternal value, the gift of prayer. Includes a 6 oz bar of the finest milk chocolate, a beautiful set of Rosary beads, and Scriptural Rosary book on how to pray the Rosary. Call us about a "fundraising" opportunity that builds treasure where it lasts forever.
Jim Paras and Thomas Rutkoski have collaborated on a project designed to encourage prayer and fund local charities while satisfying sweet tooths.
Paras, president of the West View-based Betsy Ann Chocolates, and Thomas Rutkoski, founder of Gospa Missions in Evans City pooled resources to create The Chocolate Rosary.
The concept came to Paras as he developed new products for the holidays. Rutkoski had a similar notion while brainstorming for fund-raising projects during a retreat in Texas.
A chance meeting five years ago began a journey neither man could have predicted. Paras was searching for rosary beads when an employee suggested he try the Gospa religious goods store in Evans City because it was convenient to his home in Cranberry. While he was in the store, Rutkoski came in.
The volunteer introduced Paras as a candy maker, and Rutkoski said, "You're just the guy to make me a chocolate rosary," Paras recalled.
[Full Story]
St. John of the Cross talked about those who had a "spiritual sweet tooth" so I guess this might qualify. The rosary that melts in your mouth not in your hands.
Here are some other religious candies on the web.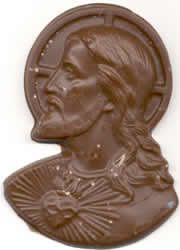 Sweet Jesus

Pick up your cross daily. Yum!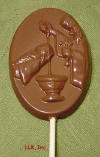 Baptism lollipops now save you