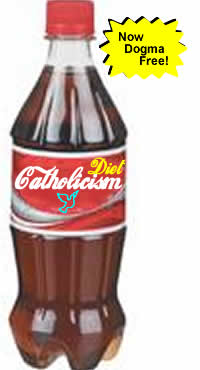 Introducing new Diet Catholicism® . Are you a cultural Catholic
and enjoy some of the outward practices of Catholicism but that dogma aftertaste
just bothers your conscience? Then try Diet Catholicism® "Smells and
Bells, but no talk about Hell."
After all two thirds of the earth is covered with water, up to
60 percent of your body is water. So what is better for your body than a 100
percent watered down faith.
Trying to keep doctrines out of your diet and want to avoid that
conscience bloat from Real Catholicism® then give yourself a break. Enjoy
Catholicism without all that obedience and changing your life stuff. Live your
life like you want to with no guilt trip to weigh you down.
Do encyclicals and statements from the Vatican give you gas?
Does just the thought of Cardinal Ratzinger give you heartburn? Then your ready
for the drink of the Me generation. Warmed over, bland, and totally nonjudgmental
on your taste buds.
We taste tested are product on prominent Catholic Politicians
and here is what they had to say.
I can drink a full liter of this refreshing product on Sundays
and still confidently say with no qualms "I am unapologetically Pro-Abortion".
–Gray Davis
Terminates your thirst and it really pumps you up. I can pronounce
anti-church views and still proudly identify myself with the Catholic Church.
My in laws have been drinking it for years.
–Arnold Swartenegger
Sometimes I get a little dry mouth when voting no against the
latest partial birth abortion ban, but a swig of Diet Catholicism® and
I am back on track.
–Tom Daschle
So pick up a Diet Catholicism® daily and swallow me.
Surgeon
General's Warning: Diet Catholicism® is not to be mixed
with the Catechism of the Catholic Church. Side effects can include
knowledge of the faith, orthodoxy, and obedience to the Pope.