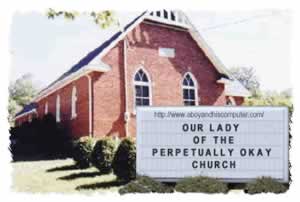 Father Longenecker has a post up about the trend of naming/renaming Protestant churches. I have noticed this also, as even denominational churches going with something more generic and dropping the denominational name.
Some actual names he lists:
Cornerstone
Fresh Spring
Living Water Fellowship
The Heritage
The Vineyard
Carpenter's Church
New Spring
Flame Fellowship
He also list some with "mysteriously cool hip hop names" he has seen:
Elevate
Velocity
The Edge
Spark
Matrix
Volt
WaveWalkers
Father then uses this trend to re-brand some possible Catholic parishes names.
St Peter's – The Rock
Our Lady of the Rosary – Beads.com
St John's – BeLoved
Prince of Peace – PeaceMan
St Therese of Lisieux – ARose
St Mary's – Virge
St Anthony's – ATone
St Elizabeth Ann Seaton – The Seat
Sounds like fun, so here are some of my suggestions:
St. Peter – Sixteen18 (in my area there are several Eleven22 Protestant churches)
St. Patrick's Catholic Church – Shamrock
St. Mark – Lost Garment Ministries
St. Jude – Nothing is Impossible
St. Augustine – Late Loving Fellowship
St. Michael – Sword of Faith
St. Anthony – Lost and Found
St. Ignatius of Loyola – Cannonball
St. Ambrose – Mother Tears
Church of the Assumption – Rise Up
St Therese of Lisieux – Little Ways
St. Catherine of Siena – World on Fire
St. Josaphat's – Jumps
St. Theresa of Avila Church – Non Gloomy Saints
St. Boniface – The Ax
Our Lady of Lourdes – Healing Waters
St. John Henry Newman – Kindly Lights Community
St. Padre Pio – Holy Hands
Maybe some Trad parishes can draw Protestants with a name such as:
What are your suggestions?