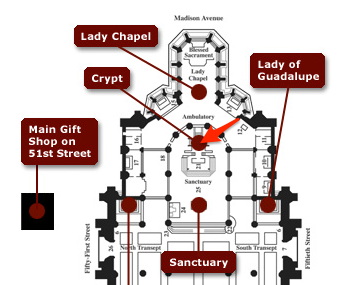 NEW YORK A surprise raid occurred in the early hours today as a failed attempt was made to retrieve the body of Venerable Fulton J. Sheen from a crypt under St. Patrick's Cathedral.
The conflict between Illinois Bishop Daniel Jenky and Cardinal Timothy Dolan of New York came into public view on September 3, when Bishop Jenky issued a statement that the Cause for Sheen's beatification and canonization had for the foreseeable future been suspended.
An agreement with the Cardinal Egan the previous Archbishop of New York seems to have been put aside. According to a news release by the Archdiocese of Peoria on September 5th.
On June 27, 2014, the Diocese of Peoria received the most recent communication from the Archdiocese of New York. This letter from its lawyer definitively stated that it would never allow the examination of the body, the securing of relics or the transfer of the body.
An anonymous source within the Archdiocese informed us that it was after the serious insult of this letter that plans were put into motion to retrieve the body of Venerable Fulton J. Sheen "one way or another." It was then that the daring raid on the crypt under St. Patrick's Cathedral was planned out and authorized. So far it is unknown if the Archbishop was aware of this plot or if it was the result of a loose canon lawyer or monsignor acting on their own.
Unfortunately unknown to the Archdiocese of Peoria was that Cardinal Dolan had previously worked out an agreement with the U.S. vicar of the Prelature of Opus Dei Monsignor Thomas G. Bohlin for the use of specially trained Opus Dei agents as guards of the crypt. While these personnel are not monks it alleged they are very pale, possibly being albinos. They disrupted the raid conducted by two priests and a group of Archbishop Sheen enthusiasts. When questioned by authorities they refused to answer any questions unless given a chalkboard. One policeman said that when he heard the confession of one of the perpetrators it was "like being stoned to death with popcorn."
While inter-diocesan fighting is unlikely to breakout, collegiality seems to have taken a hit. So far no statement regarding this raid has been release from either diocese. When we reached out to both diocese we were told "no comment".
See Dolan, Jenky To Settle Dispute Over Sheen Remains In Octagon for further developments.