As far as I can tell this article by Michael Higgins the president and vice-chancellor of St. Thomas University in Fredericton, N.B. also is not parody.
King David was fond of dancing. But then again, so was Salome. As you can see, the Scriptures are rather non-committal with regard to the efficacy of dancing. In other words, it can be to a fine end or it can be to a deadly end.
Jesuits are very fond of dancing as well, and presumably it is all to a good end. A Jesuit dance ensemble from Boston College regularly performs and provides instruction in matters pertaining to liturgical dance. They are not entirely unique in this undertaking. As a recent article in The Tablet of London indicated there is a remarkable Indian Jesuit by the name of Saju George who believes in the profound relationship of the sacred with Indian classical dance. He is an expert in Kuchipudi and, more especially, Bharatanatyam.
Bharatanatyam is originally a Hindu temple dance that has undergone some significant change since 1947. When he was asked how it is possible to integrate traditionally Hindu religious practice with Catholic spirituality Father George responded that "we have to go through a rigorous training — physical and mental. The form of dance involves a commitment of the whole person, body and soul. Everything that is danced is in place of God. God may be Shiva, or Krishna — or one of the other gods of the Hindu tradition.
"As a Catholic, I found that the dance may be in its traditional roots Hindu, but that it had the potential to express a Catholic commitment to Jesus through our own hymns; to make the spirit of the Bible alive in dance and in movement. Our hymns can be danced."
Jesuits are not unaccustomed to taking art forms that are indigenous to a non-Christian culture and adapting their best in order to communicate in a vital and creditable way the message of the gospel. They also do it within the Catholic tradition itself, as was exemplified by the Jesuit enthusiasm for baroque ballets in the 17th century.
So proficient were the Jesuit dancers and choreographers that one Parisian wag mused that no one could pirouette as well as a Jesuit.


"No one could pirouette as well as a Jesuit" has got to be one of the funniest statements I have read in a while. It is unfortunately just so easy to visualize a pirouetting Jesuit. After all they have such flexibility when it orthodoxy that it is easy to also imagine a bodily flexibility to rival the most experienced contortionist. Not to engage in Jesuit bashing and all of that, but things like this don't exactly come as surprises – more like expectations.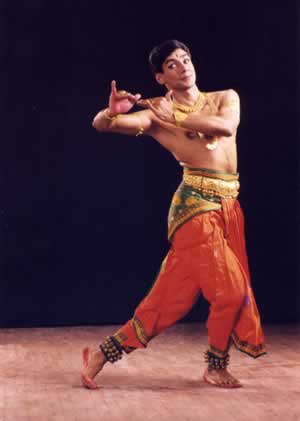 Father Saju George S.J. in a picture that deserves a captions contest.
"What you mean someone stole my flute?"
"I learned how to make this hand signal from Ronnie James Dio."
Not that other order's might not do the same as I have noticed with the Dominican-can.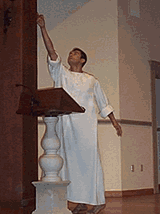 It usually annoys me when somebody brings up King David when it comes to liturgical dance. Last I checked King David was not dancing in the Temple before the altar sacrifice, but was engaging in a bit of private devotion outside of the liturgy. Even so he scandalized some people by his actions such as Michal one of his wives. Outside of the Mass if you want to engage in devotional dancing with joy and praise to God, knock yourself out. I grew up seeing performances of modern dance and it just isn't my cup of tea, but if you want to get together with others to try to truly praised God than go ahead. The only dance I want to see at Mass is TranscenDANCE.