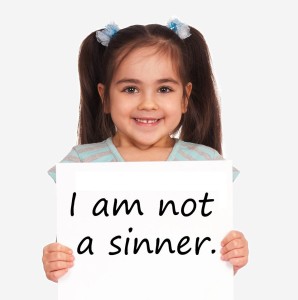 Last week I had posted about how speaking about sin and repentance was so lacking in homilies I have heard. So this story caught my eye:
PORTLAND, Ore. –– A chapter of a nationally-recognized Christian group that seeks to reach children with the gospel of Jesus Christ is under fire for teaching kids the biblical doctrine of sin and eternal judgment, in addition to sharing about the love and mercy of God.

The Portland chapter of Child Evangelism Fellowship (CEF) is facing resistance from some area residents as they conduct voluntary summer camps in the area and plan on hosting after-school Bible studies in local public schools. The problem? CEF teaches children that each person is a sinner in need of the Savior.

Those who oppose the group assert that because of this, CEF does not present "Jesus loves you" mainstream Christianity, and claim that the organization is "hardcore evangelical fundamental."

"They pretend to be a mainstream Christian Bible study when in fact they're a very old school fundamentalist sect," resident Kaye Schmitt told local television station KATU.

Robert Aughenbaugh also told reporters this week that preaching to children about sin might give them feelings of fear and shame.

Aughenbaugh, Schmitt and others have organized a group called Protect Portland Children, which seeks to speak out against CEF's message and influence parents not to allow their children to attend its events. It has set up a Facebook page that has so far generated over 800 likes. It's profile photograph is of a child holding a sign that reads "I am not a sinner."
This is the type of story where I carefully check to see that the source was not a parody site. Or at least not intentionally one.
Now as to the details of the story I have no idea how CEF presents their message or how prudently it is presented.
"We do teach about sin," Esteves stated, "[But] we're not nasty. We're not high pressure. We're not negative, but we teach what the Bible teaches that every human being is a sinner in need of a savior."
Still I think it is illustrative of a general trend. Where self-esteem trumps everything so really there is no need of a redeemer in the first place. Having negative feelings towards something you have done must be banished as unhealthy. It is like the former Catholics who speak of "Catholic guilt." This "guilt" which they have pushed to the ground not realizing it was a sign of a functioning conscience. When moral relativity holds the day there must be no trespass by a properly (or even improperly) formed conscience. If somebody experiences "fear and shame" for something they did, than it could be the beginning of wisdom and a properly understood "fear of the Lord." That must be prevented at all cost. Esteem was once tied to merit, but like many concepts now has been set adrift as its own like rights and responsibilities.
Scrupulosity and Jansenism are both errors. As is to call yourself a sinner like Uriah Heep called himself humble. As is the tendency to admit your a sinner, but to excuse it because "you are only human" as if the saints were something else. Detection of sinfulness seems to come easier when we look at others more exacting than ourselves. King David was obviously shocked when was revolted by a story of wrongdoing only to have the Prophet Samuel tell him "You are the man!" There seems to be a thousand ways to go wrong in regards to understanding our own sin, but Jesus never taught about a wide gate with lots of foot traffic. Hard as it is to come to an understanding of personal sins like King David did, it seems even harder to repent of them.
One of the things I love about being Catholic is the deepness of thought and necessary distinctions. My first thought on seeing the little girl with the "I am not a sinner" was to wonder if she was not yet of age of reason and also not yet fully culpable of sin? If so maybe a "I have Concupiscence" would have been more fitting. I wonder if a Facebook page with a teenager holding the same sign would have got an equally positive reaction? If anybody thinks young children above the age of reason can't sin they must have quited different observational and personal experiences than myself.