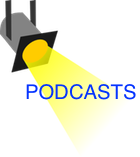 One of my favorite radio shows is Kresta in the Afternoon which is hosted by Ave Maria Radio and also played on EWTN radio. Previously they had started to release recordings of their show via MP3s and later created a Podcast feed so you can listen to the show.
Al Kresta was previously a Protestant pastor, Christian book store manager, and later had a Christian talk show. He returned to the Catholic Church in the early 90s and started his present show in 1997. Here is his conversion story.
What I so enjoy about his show is the range of topics. While there is talk on the current events of the day and the world of politics, the show covers a large variety of topics along with a wide range of guests. Even when covering politics it is at a deeper level of analysis than you normally get and the spiritual dimensions are always considered. I also really like that when he has guests of imposing views it is never the shouting back and forth you would get in other venues. He is a very skilled interviewer and asks very thoughtful questions. I might not always agree with his analysis on prudential questions, but really it is only prudential questions that I have ever found myself disagreeing with.
I also quite like his humility in that he does not pretend to have all the answers and is willing to engage and to learn. On a recent show they had a back-and-forth debate between theologian Monica Miller and Simcha Fisher who blogs and writes for the National Catholic Register along with other Catholic publications. Simca had wrote an article regarding the use of the photos of aborted children. Monica Miller as part of her long-time work in the pro-life cause has taken photographs of aborted children and was involved in some highly publicized cases regarding finding the remains of these children in the garbage outside the clinic. This made for a very interesting debate considering both of these women are strongly pro-life and had differing prudential decisions regarding this. The problem with this debate though was it seemed to be rather contentious at times. This week on Al Kresta's show Al apologized for not doing his role as host very well leading to the debate not coming off very well. It was apparent he was distressed over this airing of his show.
He often has discussion regarding books along with interviews of the authors and again I am impressed by nuances of his questioning and the answers they invoke. I also look forward to his annual show where he interviews various Catholics and asks them about the books they most enjoyed for the year. I have gotten a lot of pleasure from these discussions and reading these recommendations.
My only real complaint about the show is that there are often repeats of previous broadcasts. It might be selfish of me, but I want him on all the time. I would also like it to be much clearer when the shows are repeats. Another thing that I would like is that they provide notes and an outline of each show in the info section of their podcast. Some tech podcasts I listen to do this and it is quite useful to easily get to links discussed and to see the outline of the show.
Disclaimer: His blog lists my site on his short list of "The Blogs That Matter Most" and I once got to be a guest on a short segment of his show along with another blogger.