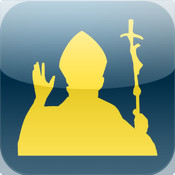 So the Vatican puts out a new app called "The Pope App", specifically put out by the Pontificium Consilium de Communicationibus Socialibus.
What is amazing is that it doesn't suck. In fact it is quite well done. Just from a design perspective it is clean and functional. I totally agree with Thomas L. McDonald's review which also includes some screenshots.
It has the following sections:
Live – Video streaming of some live events.
From the Pope – Angelus, Homilies, General Audiences, etc.
News
Images
Video – Archived video of Papal events
Webcams – Yes Vatican webcams.
Vaticano – Links to the Pope's Twitter feed along with other related links.
My only real critique is that for something called "The Pope App" I would think a basic biography of the Pope would be in order and maybe something about the Papacy itself. Although this is a "preaching to the choir app", so maybe this is not necessary.
Must have for pAPPists.