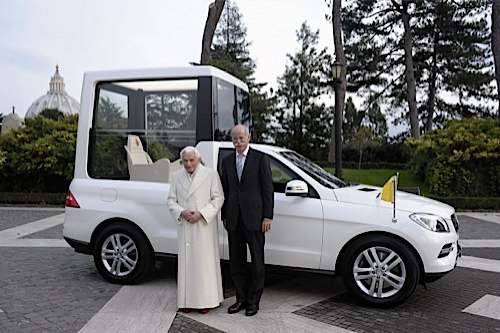 Pope Benedict XVI Takes Delivery of New Popemobile
It is really quite fun to say "Mercedez-Benz M class popemobile." Popemobiles are just plain fun and proves the perfection of Catholicism. There are no DalaiLamamobiles ar ArchbishopofCanteburymobiles.
Obviously the "M" in "M class" stands for Magisterium.
I do wonder if it has "soft Corinthian leather" in it's interior. Or should that be St. Paul's leather to the Corinthians? Though maybe this joke needs context for those unaware of the Cordova commercials in the 70's. At least there is a Catholic connection as Ricardo Montalban was the spokesman.
Not surprisingly, Daimler did not go into detail as to what exactly the vehicle's security features included, but you can bet it has similar features to those found in the Mercedes-Benz Guard Models.
Hmm it would be cool if the popemobile got James Bond car features installed by Q.