First off, congrats to The Crescat for her new digs on Patheos. Now I will just steal this video from her.
<iframe width="480″ height="360″ src="http://www.youtube.com/embed/gUQFX_IydG8″ frameborder="0″ allowfullscreen></iframe>
Back in 2004 I covered the story of Sister Rhonda Rice is one of 16 nuns at All Hallows Convent at Ditchingham, Norfolk who had earned a Black Belt.
I had wondered what might be the weapons that a nun would train with. Then I realized the  obvous answer.
Nun-Chucks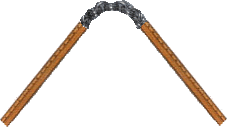 And with these specialized weapons you know she could beat you within an inch of your life if you didn't measure up.