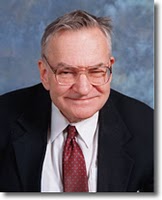 Dr. Warren Carroll, founder and former president of Christendom College in Front Royal, Virginia, died Sunday according to reports.
Dr. Carroll established Christendom College in response to the declining religious identity and commitment to the liberal arts at America's leading Catholic colleges and universities. He was a pioneer in the renewal of Catholic higher education, more than a decade before Pope John Paul II issued his constitution, Ex corde Ecclesiae.
… More at the Cardinal Newman Society
I first became aware of Dr. Carroll via his multi-volume "A History of Christendom" that started with Founding Of Christendom: History Of Christendom Vol 1
. I absolutely loved his history books where each volume covered an era in Christian history. They are packed with interesting tidbits of the Church's history and I learned a lot about Church history from them and he does not shy away from the less than shiny bits of Church history.