Sometime my geek side and my Catholic side get to met.  I just noticed a new app for the iPad called Hello Baby – Pregnancy Calendar done by P&G Productions for Pampers.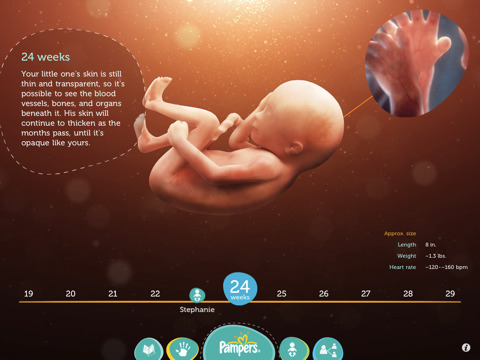 The app is rather cool in that as you click along the timeline you see the progress of the baby and you can enter your baby's name and due date.  You can also just swipe across the screen to move along the timeline.  Clicking on the image brings up a zoomed in image.  Clicking on the book icon brings up textual information on child development.
It is rather odd that the first time you run it there are two check boxes for agreements about the pictures used. Plus the app starts at 4 weeks not at conception.  No doubt there is some political correctness involved in these decisions.  Plus there is of course links to the Pampers web site, but regardless of the commercialization this is a fairly nice app that is being provided free and a useful tool for pregnant women.  The app also hooks up with Facebook to share information on child development.
Regardless this application might just be a great tool to use in the pro-life cause.  The iPad itself provides a good size screen  and in combination with this app might be perfect for sidewalk counseling.  This provides a good educational approach.
The thing is Planned Parenthood and NARAL can't release a similar app.  Trying to display a baby as just a "product of conception" or other euphemisms just don't work together with actual medical images.  The science of  human development has always been a powerful part of the pro-life cause which is why the culture of death so hates women actually seeing their child on an ultrasound machine.  Besides Planned Parenthood couldn't have a Hello Baby app, more like Goodbye Baby for them.