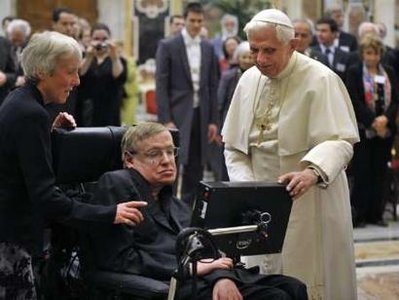 Pope Benedict XVI greets British professor Stephen Hawking during a meeting of scientists, theologians and philosophers at the Vatican today to discuss the origins of the cosmos.
VATICAN CITY (CNS) — The world did not emerge out of chaos; rather it was created intentionally by "the first being," Pope Benedict XVI said.
The Creator also is involved not only with the origins of the universe, but continually sustains the development of life and the world, said the pope during an Oct. 31 audience with 80 participants of a Vatican-sponsored conference on evolution.
Scientists, philosophers and theologians from around the world were attending the Oct. 31-Nov. 4 plenary session on "Scientific Insights Into the Evolution of the Universe and of Life" at the Pontifical Academy of Sciences.
The pope said the topic was timely and has elicited interest worldwide.
"Questions concerning the relationship between science's reading of the world and the reading offered by Christian revelation naturally arise," he said. Popes Pius XII and John Paul II had found there was "no opposition between faith's understanding of creation and the evidence of the empirical sciences," he said.
"In order to develop and evolve, the world must first be, and thus have come from nothing into being. It must be created," the pope said.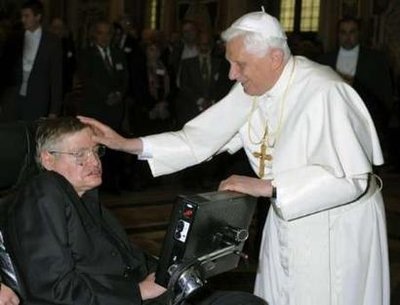 Via Fr. Blake and American Papist