Don't you just love the politics of hope?
It is just so hopeful!
Combine that with change and it is perfect. Let us
hope to change and change to hope!
So let us begin with just some of the
examples of hope and change that
Sen. Obama promises.
In the
July 17 speech, Obama attacked the Supreme Court decision that upheld
the federal partial-birth abortion ban and the nomination of Supreme
Court justices who favor overturning Roe v. Wade. In the speech the
senator said, "There will always be people, many of goodwill, who do
not share my view on the issue of choice. On this fundamental issue, I
will not yield and Planned Parenthood will not yield."
Yes Partial Birth Abortion is so hopeful
and a Democrat supporting it is such a change!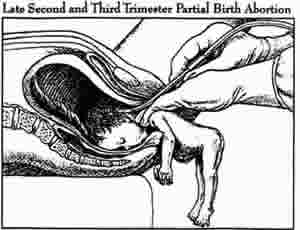 Can we vacuum out the brains of a child
just
prior to being born? Yes we can!
The senator said he had a long
tradition
of support for legalized abortion, citing his efforts in the Illinois
State Senate and his classes as a law professor. I have worked on
these issues for decades now, he said. I put Roe at the center of my
lesson plan on reproductive freedom when I taught Constitutional Law.
Not simply as a case about privacy but as part of the broader struggle
for womens equality.
Yes abortion in all of its glory is just
so hopeful Keeping abortion on demand as the law of the land
is all about change.
And of course those evil pro-lifers who
want to destroy reproductive freedom and to remove that
Constitutional right to abortion are not about hope or change at all.
Those pregnancy centers which offer help to women who find
themselves in a difficult circumstance are not about hope at all.
Providing help and support to the mother and actually helping
a child to be born is just not hopeful. Supporting Planned
Parenthood and others kill the child and not give a damn what happens
to the mother after pays her fee and she leaves the abortion clinic is
all about hope.
But wait there is more hope!
RUSSERT: Senator Obama, any statements
or vote you'd like to takeback?
OBAMA: Well, you know, when I first arrived in the Senate that first
year, we had a situation surrounding Terri Schiavo. And I remember how
we adjourned with a unanimous agreement that eventually allowed
Congress to interject itself into that decision making process of the
families. It wasn't something I was comfortable with, but it was not
something that I stood on the floor and stopped. And I think that was a
mistake, and I think the American people understood that that was a
mistake. And as a constitutional law professor, I knew better. And so
that's an example I think of where inaction…
It just makes me feel warm and fuzzy to
think of all of Sen. Obama's hopefulness towards Terri Schiavo.
Can't you feel the love! Jesus wept at Lazarus'
tomb and Obama regrets not doing more to help someone die sooner.
Just too bad that Sen. Obama could not
have been involved and offered the same type of hope for now 14 year old Haleigh Poutre who was
on the verge of being dehydrated to death by court order and is now
talking. Let us not have such travesties of patients defying
their diagnosis in the future and let us share some Terri Schiavo style
Obama hope for people with cognitive difficulties.
Abortion, euthanasia, cloning and killing,
and using embryonic human beings for research are all about hope!
Catholic Answers Action lists five
non-negotiables as abortion, euthanasia, ESCR, human cloning, and
homosexual marriage. Wow he gets a perfect five of five and certainly
he will be non-negotiable on these issues. And what about his
hopeful support of infanticide? A natural for the
Catholic vote.
For my part I hope that he
repents and changes
his culture of death positions.