Regal is giving theatergoers free popcorn and a gadget that lets them bust annoying cellphone users in the theater.
Regal is testing devices at 25 of its theater locations, handing them out to frequent customers and may roll it out nationwide in the next year if it proves successful, Campbell said. Regal operates 6,400 screens nationwide.
About the size of a pager, the gadget has four buttons. One alerts theater managers about a disruption in the audience, such as a fight over a cellphone.
A second button gives notice of faulty movie projection, a third button can be pressed if the room temperature is off and a fourth button, marked "Other" covers any other problem.
The device is part of Regal's efforts to keep fans coming back to the box office by making sure they still enjoy the experience, even as the movie industry faces greater competition from other media such as the Internet or video games.
The blogger at Threshing Grain thought that I could adapt this story.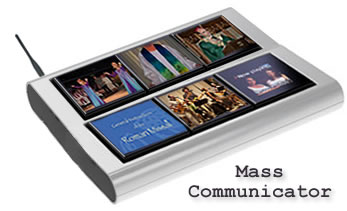 Ron Coe Church Products introduces the latest in Church tech – The Mass Communicator. Have you ever seen or heard something during the Holy Sacrifice of the Mass that does not quite fit? Noticed a liturgical abuse that upsets you. Have you ever talk to your priest about it only to get called a pharisee for being such a stickler to liturgical norms? Are you positive that letters to your bishop are used to keep the diocesan shredder in prime condition? Have you ever griped to your spouse on the way home or blogged the latest liturgical abuse you encountered? If so The Mass Communicator is the device just for you.
The Mass Communicator is the latest in OLED technology with pictures on each of the six selectable buttons to guide you in reporting what you have witnessed at Mass. Simply select one of the buttons such as Liturgical Dancers, Stole Fashion Alert, GIRM, Guitar Mass, Homilies that have nothing to do with the readings, etc and follow the list of options till you find the one to report. Once all infractions have been entered simply select Send and the information is sent to us over the cellular network. We maintain a massive internet databases containing parishes and we track all the information reported by our subscribers.
The Mass Communicator is not just for gripes though. You can report positive things also. Have you heard a homily that actually talks about the sin of contraception? If so click on the Homily picture and scroll down about 30 pages and select "Sin of contraception." Common options are placed near the top and least used options are placed towards the bottom of optimal efficiency. Does you church actually have a tabernacle that you can easily find without requiring a hunting party? If so file a positive report.
Each month our website gives reports of each parish with members that have the Mass Communicator. If several reports of the same type of problems are reported from a specific parish one of our representatives is sent to talk to the parish priest, liturgist, or music director. If this does not solicit results we will send one or two others (in the case of liturgists backup is always required and a special team dedicated to fasting and prayer). If again problems persist a respectful letter is automatically sent to the diocesan Bishop for you with specific references to liturgical documents. Our company follows Matthew 18 guidelines for you. If the parish receives a majority of positive reports then a thank you letter is sent to the parish.
The Mass Communicator is a multimedia device with the latest in advanced technology to help you accurately provide reports and to help us determine how valid a positive/negative report is. For example do you think the choir is singing Kumbaya style dreck? If so select the Music button and select record. The device will then capture the sound via the onboard microphone in the internal flash memory card. When you send the report a special algorithm will evaluate the sound clip and rate it from one to ten on the Haugen-Haas-Joncas scale of musical sappiness. If you see a vestment that you don't think you can describe or that nobody will believe you if you did – activate the built-in 2 megapixel camera to send a photo along with your report.
Each month you can log into our website and see how your parish compares. Whether you think you are in a parish with liturgical riches or liturgical wackiness you can see where you sit on the EWTN Televised Mass-St. Joan's Gymnasium Mass Scale. You might find yourself relatively lucky after all.
So instead of letting your blood pressure to rise each month with unresolved rants – report it with The Mass Communicator. Subscribe to our service for only $9.99 a month and with a one year contract we will send you The Mass Communicator free! Each month our graphics and menu items are updated to reflect the latest trends in liturgical experimentation and are used to update the firmware of your device for ease of use. If you live in diocese such as Los Angeles or Orange let us know and we will send you are 24 button device because you will need it.
Act now and we will also send you a free gift of your choice such as knee pads for kneeler-less parishes.